GRÜN Software Group receives award "Innovator of the year 2020"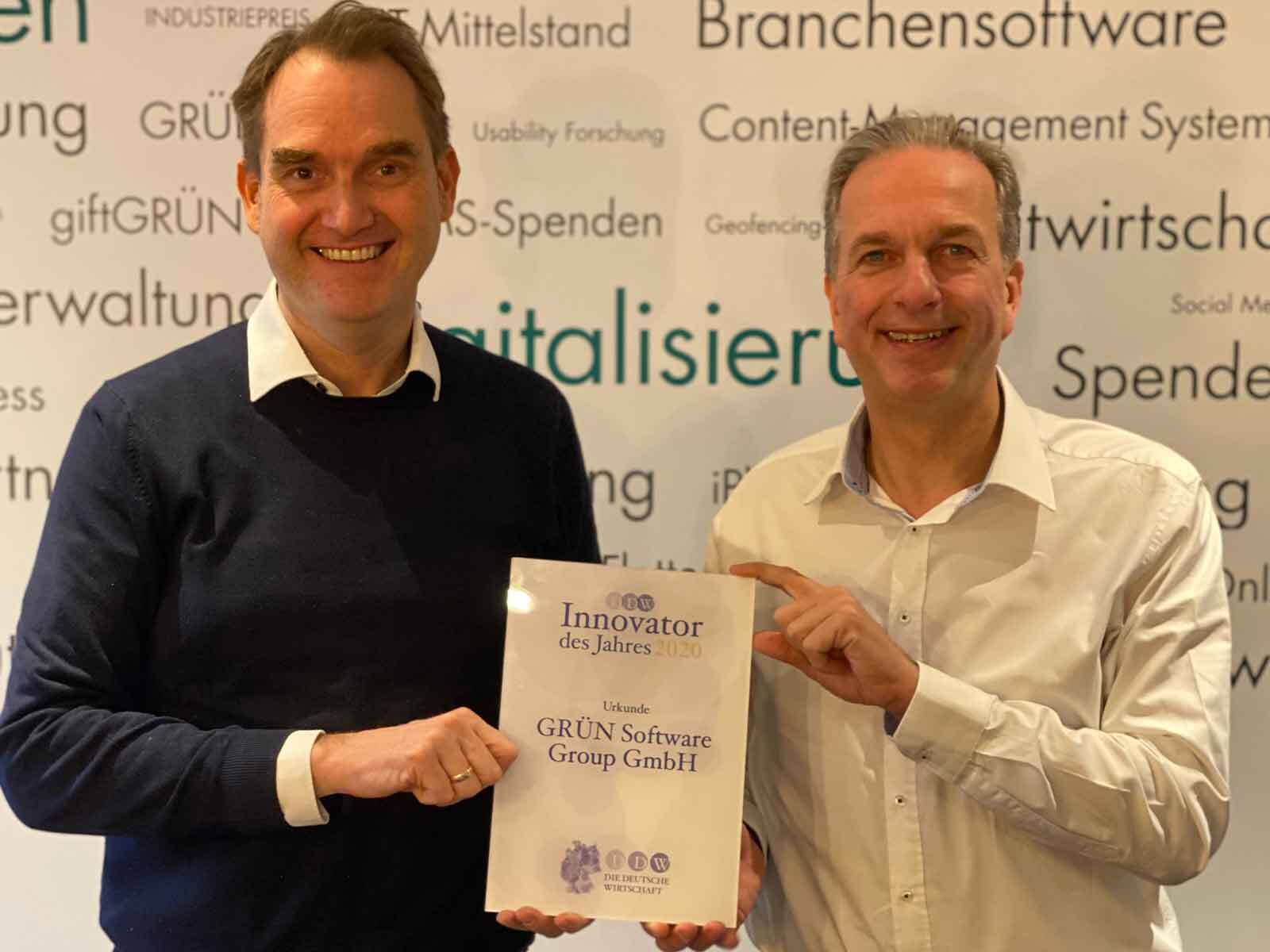 Dr. Oliver Grün and Dirk Hönscheid, managing director of GRÜN Software Group GmbH, are happy to have been named "Innovator of the Year 2020".
GRÜN Software Group Awarded "Innovator of the Year 2020" for setting up an owner-managed buy-and-build software group. Dr. Oliver Grün is pleased about the award of the new business model innovation. Awards ceremony due to the corona pandemic on June 19, 2021.
Aachen, October 03.12.2020nd, XNUMX. The GRÜN Software Group was called "Innovator of the year 2020" excellent. The portal "The German economy"With this business award (DDW) honors companies and hidden champions of the German economy who master the challenges of economic action and change, especially in the crisis year 2020, and better still: shape them as innovators. "Entire business models were also in focus. That's how it counts GRÜN Software Group from Aachen with their establishment of an owner-managed buy-and-build software group to ensure digital sovereignty among the innovators of the year, "explains DDW publisher Michael Oelmann.
"We are delighted to have been named Innovator of the Year 2020 for our business model innovation to set up an owner-managed software group that does not yet exist in this form", said Dr. Oliver Grün, CEO and founder of GRÜN. As part of a buy-and-build strategy, systematic investments in software companies will be sought in the future in order to create a digital ecosystem of independent standard industry solutions under the umbrella of GRÜN Software Group build up. In mid-2020, Grün was able to find a southern German for his growth plans Family office as a significant minority shareholder and investor win. "In our new shareholder structure, we combine expertise in software entrepreneurship and financial investments," explains the company boss, who continues to be the majority shareholder of GRÜN remains.
This year were next to the GRÜN Software Group 21 other companies from Germany were named "Innovator of the Year" by the DDW. Tesa SE was able to win the additional audience award. Due to the corona pandemic, the award winners will be awarded late in the course of a large ceremony on June 19, 2021 in the Grugahalle Essen. The award ceremony is part of an innovation festival under the patronage of NRW Prime Minister Armin Laschet. At this innovation festival, conferences, events and forums with around 2.500 visitors will take place all day. Guests of honor and speakers such as Frank Thelen or Richard David Precht will also take part in this event.
You can find more information on the "Die Deutsche Wirtschaft" portal.
Download press release
Send us a message if you want to know exactly how our solutions can support you. We are looking forward to your contact
Contact inquiry