30 years GRÜN Software with a festive ceremony in digitalCHURCH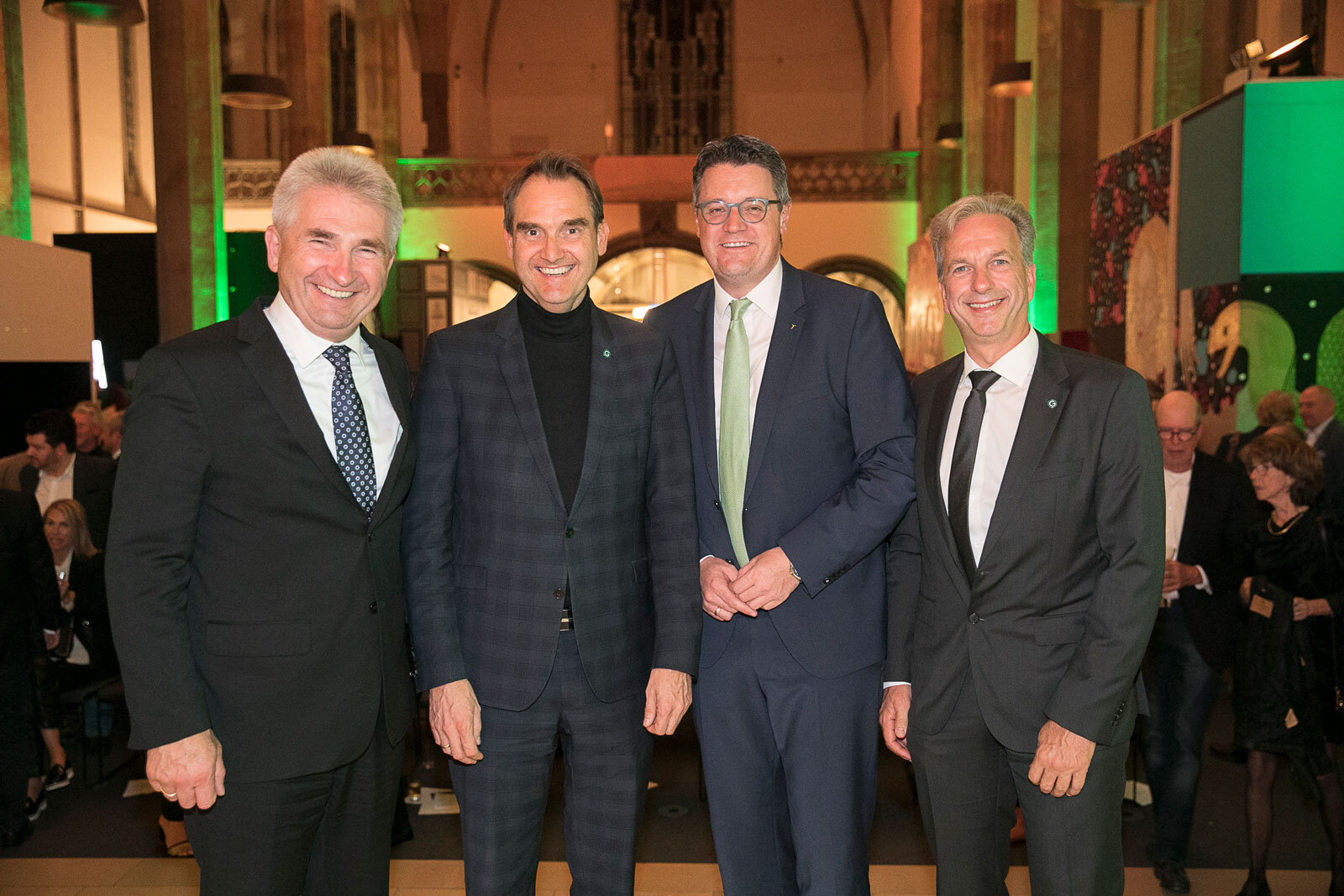 Minister Prof. Dr. Andreas Pinkwart, CEO Dr. Oliver Grün, City Councilor Dr. Tim Grüttemeier and COO Dirk Hönscheid at the 30th anniversary of the GRÜN Software Inc.
The Aacheners GRÜN Software AG celebrated its 20th company anniversary on September 2019, 30. Ceremony in the Aachen digitalCHURCH. Over 300 invited guests, including Minister Prof. Dr. Andreas Pinkwart and numerous other personalities from politics and business. 12.500 euros in donations to charities and non-profit organizations.
Aachen, October 24.09.2019nd, XNUMX. The GRÜN Software AG has its 20th company anniversary on Friday, September 2019, 30 with a big ceremony in the Aachen digitalCHURCH celebrated. Over 300 invited guests, including numerous guests of honor from business and politics, accepted the invitation.
Minister Prof. Dr. Andreas Pinkwart, Ministry of Economics, Innovation, Digitization and Energy of the State of North Rhine-Westphalia, paid tribute in his keynote speech Dr. Oliver Grün, Board Member and CEO of GRÜN Software AG as a "persistent and committed driver of digitization". "We need more successful digital companies like that GRÜN Software AG, who also bear social responsibility ". Pinkwart also thanked Oliver Grün for the good and trusting cooperation in his commitment as chairman of the digitalHUB Aachen, a flagship project for digitization in North Rhine-Westphalia, as an advisor to the state government and as president of the Bundesverband IT-Mittelstand. City Council Dr. Tim Grüttemeier from the Aachen City Region followed suit and in his address also emphasized the importance of innovative, medium-sized companies such as the GRÜN Software AG.
In his address, Grün looked back over the past 30 years. He gave all the guests present an insight from the beginning as a sole proprietorship to the market-leading digitization partner for member and donation organizations with 170 employees. "My passion is to make a difference," said Grün as a drive for independence. "Without the employees of GRÜN Group that want to make a difference with me if we weren't the medium-sized company that we are today. My special thanks go to you for your great commitment ".
At the end of the "official part" of the 30th anniversary celebration Hastenrath's will a satirical summary of Oliver Grün's career from student to successful entrepreneur.
As part of the company's 30th anniversary, a total of 12.500 euros were donated to charity. These are initially divided into donations of each around 3.000 Euro for Don Bosco Mission, Christoffel-Blindenmission Deutschland eV and Renovabis from the GRÜN Software AG. On the evening itself, the company called for a donation in favor of the regional association Breakfast4Kids eV on. The GRÜN Software AG will round up the donations received in such a way that a total donation of 12.500 euros is guaranteed.
Download press release
Send us a message if you want to know exactly how our solutions can support you. We are looking forward to your contact
Contact inquiry