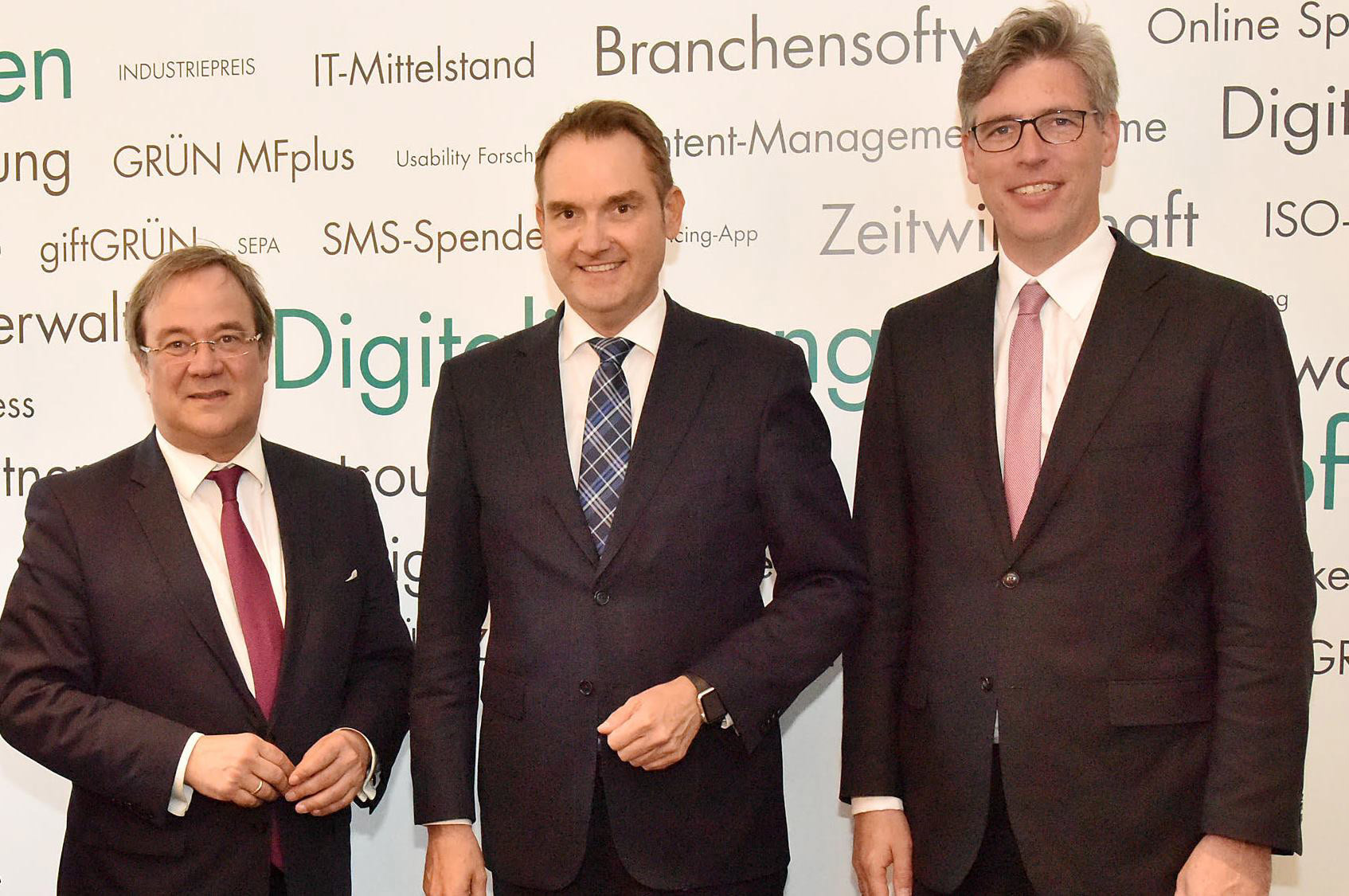 Prime Minister Armin Laschet, BITMi President and Board Member of GRÜN Software AG Dr. Oliver Grün and Aachen's Mayor Marcel Philipp (from left). Photo: Andreas Herrmann
Aachen, October 05.06.2018nd, XNUMX. NRW Prime Minister Armin Laschet took place on May 18, 2018, the nationwide Mittelstand 4.0 Competence Center IT Business (KIW) of the Federal Ministry for Economic Affairs and Energy opened its West base in Aachen. With around 150 participants at the opening event, many companies from North Rhine-Westphalia have shown great interest and are in the invitation GRÜN software HUB, the headquarters of the KIW. The participating companies not only had the opportunity to obtain information about the support offered by the competence center, but also to make initial contact with other IT companies from the region who were also willing to cooperate.
When welcoming the guests, NRW Prime Minister Armin Laschet emphasized: "We are delighted that the new West base of the IT business competence center is located here in North Rhine-Westphalia. This again makes the excellent location conditions in our country clear. Small and medium-sized IT companies play a key role when it comes to making our companies fit for digital transformation. It is an important driving force behind digitization in North Rhine-Westphalia. The IT business competence center is intended to serve as a network for small and medium-sized companies and start-ups in the IT sector. For Aachen and for the state of North Rhine-Westphalia, the West base is the right step to further advance digitization. "
"The opening of the West base of the competence center in Aachen underscores the development of the Aachen region into a hot spot for the digital economy in North Rhine-Westphalia. The approach of the competence center to support the domestic digital economy through cooperation models fits well with our guiding principle ´Networking instead of copying Silicon Valley '", adds Dr. Oliver Grün, President of the Federal Association IT-Mittelstand eV (BITMi), which is the consortium leader of the competence center. The mayor of Aachen, Marcel Philipp, and the managing director of the KIW, Ms. Mailin Winter from Berlin, were also present at the kick-off event.
In addition to the BITMi as the largest IT association for explicitly medium-sized IT companies, the consortium of the cooperation project consists of the Technical University of Wildau (TH Wildau) as the largest university of applied sciences in Brandenburg with expertise in business, IT and law and the Technical University of Brandenburg (TH Brandenburg) special labs for application-oriented research of digital interfaces and ecosystems. The nationwide IT business competence center has four regional bases with different topics in Berlin, Aachen, Kassel and Karlsruhe.
Send us a message if you want to know exactly how our solutions can support you. We are looking forward to your contact
Contact inquiry