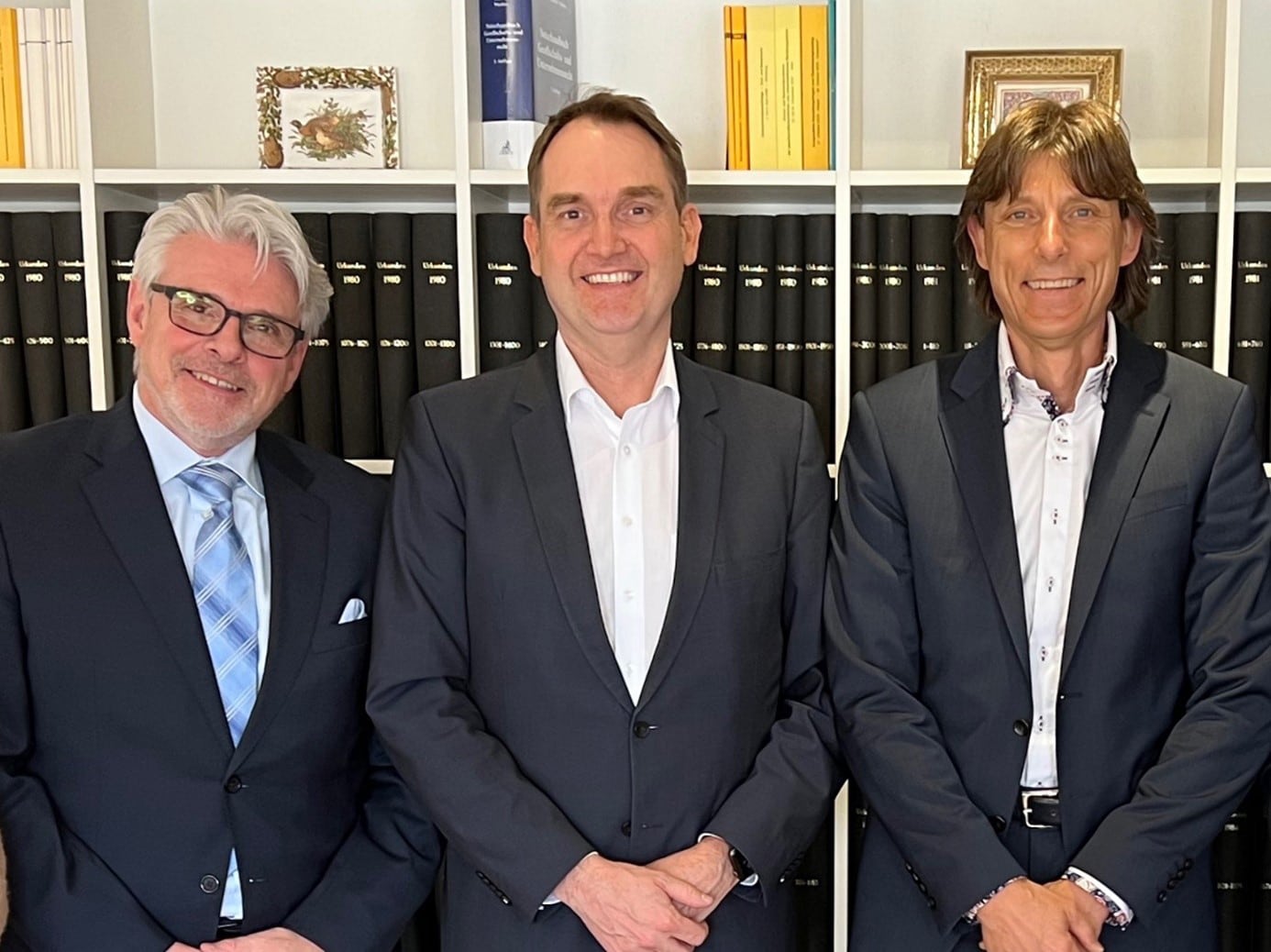 fltr: Michael Horst, Dr. Oliver Grün, Frank Wallbrecht
In GRÜN Software Group GmbH with headquarters in Aachen expands its platform "NGO & Education" with the entry at the association service provider med info GmbH. the GRÜN In addition to the association software, the product range is supplemented with a range of services in association management. The med info GmbH location, all contacts and the independent corporate structure will remain the same - the portfolio will be digitized.
Heidenheim / Aachen, May 11.05.2022, XNUMX. In GRÜN Software Group takes over 50 percent of the shares of the association service provider med info GmbH from Heidenheim. The aim of the partnership is to offer the customers of med info GmbH even better services through digitization and to support the growth and further development of the company.
"We are very happy to be with GRÜN to have found a strategic partner who, as a market-leading software provider for Associations has the necessary expertise in the digitization of this target group and also follows a 360-degree service approach itself in order to offer its customers additional services in addition to software. The wide range of services offered by med info GmbH for the association management of associations - mainly from the health sector - thus complements this GRÜN Portfolio complementary. We see many synergies here in both directions," say Michael Horst and Frank Wallbrecht, Managing Directors of med info GmbH.
med info GmbH has been successfully supporting medical professional associations in Germany for 30 years association management in administration, strategy, communication and training management as well as in the organization of congresses, face-to-face or online training. The individual services include the planning and implementation of membership and fee administration, specialist congresses and accredited training programs in the medical field. Due to the strong focus on the health sector, there is a large network of partners and customers from the healthcare sector, as well as with pharmaceutical companies and medical technology manufacturers. med info GmbH's customers include numerous specialist medical professional associations in Germany such as the BVND (Federal Association of Resident Diabetologists), the BdP (Federal Association of Pneumologists, Sleep and Respiratory Physicians eV) or BdB (Federal Association of Attending Physicians and Attending Hospitals).
The managing partner Michael Horst has initiated his successor by selling his shares and will resign as managing director. Frank Wallbrecht will remain with the company in the long term as managing partner and will assume full management responsibility: "I am happy for our employees and customers that we can work with our new strategic partner GRÜN great stability as well as progressive, technical know-how for the future. I am convinced that innovative digitization will enable us to make our customers even more satisfied in the future and win new associations," says Frank Wallbrecht about his plans for the future.
Also Dr. Oliver Grün, CEO of GRÜN Software Group GmbH, welcomes the new company: "med info has very profound and practical knowledge for the successful management of professional associations. This makes the company an ideal addition to our group, in which we offer software and outsourcing of administrative processes for many associations. It is part of our strategy not only to offer software, but also to become a strategic 360-degree digitization partner for our customers within our target groups through additional agency services."
Send us a message if you want to know exactly how our solutions can support you. We are looking forward to your contact
Contact inquiry