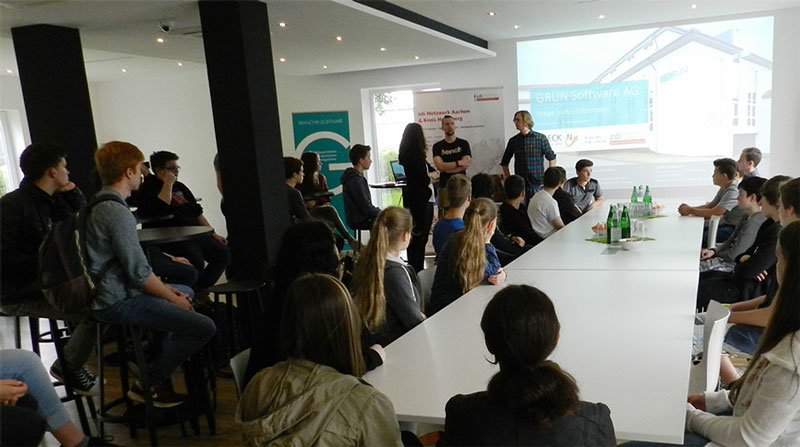 An exciting program awaited the around 30 pupils as part of the 2nd CHECK IN day at the GRÜN Software Inc.
As part of the CHECK IN initiative, under the patronage of Dieter Philipp, President of the Aachen Chamber of Crafts, around 30 companies from the Aachen City Region opened their doors to schoolchildren from the 2016th grade onwards on June 50, 8. Also the GRÜN Software AG took part in this event and offered the young people, among other things, the opportunity to learn more about working practices in a market-leading software company.
It started at 13 p.m. with the official reception. Daniel Körfer, Head of Training at GRÜN Software AG, welcomed a total of 30 students. After a tour of the company, the participants were able to gain a practical impression of professional life in the areas of software and app development and online marketing.
The students were enthusiastic about immersing themselves in the virtual world. Virtual reality glasses conveyed the feeling of actually being in the virtual world. Depending on the viewing direction, head movement and position, interactive images were shown on the display. In a game, the participants were able to prove their skills with virtual bows and arrows.
With the FabBus, the GRÜN Software AG offers the students in cooperation with the zdi offer another highlight. The FabBus is a project of FH Aachen, with the aim of promoting the technology of 3D printing in schools and businesses. In the FabBus, after a short theoretical briefing on rapid prototyping, it was time to design and print a key fob yourself.
Send us a message if you want to know exactly how our solutions can support you. We are looking forward to your contact
Contact inquiry