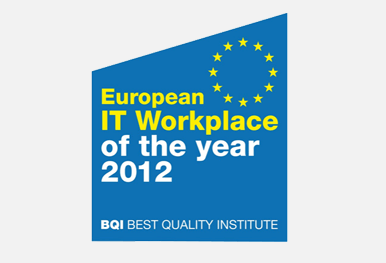 GRÜN Software AG recognized as an outstanding IT employer. Medium-sized companies attractive for IT specialists.
The Aacheners GRÜN Group is one of the best 25 IT employers in Europe. This was the result of a benchmark by the Munich Best Quality Institute BQI, which the independent institute carried out together with the IT media company IDG. The patron of the competition, which was announced for the first time in 2011, is Neelie Kroes, Vice President of the European Commission.
With its success at the European IT Workplace Award, the company, which has branches in Aachen, Berlin, Vienna and Bratislava, is in prominent company with companies such as SAP and Arvato.
GRÜN Software AG in Aachen as an employer
The employee of GRÜN Software AG are satisfied with their employer. According to the benchmark, the medium-sized company is characterized by its above-average working atmosphere and measures for team building and communication.
The employees also emphasize the same career opportunities for women and men as well as in-house childcare. In addition, they praise their say and their influence on decisions and the company's care for them.
The European IT Workplace Award is intended to bring more transparency to the IT labor market and counteract the trend that only large, well-known companies such as Google or Apple are perceived as attractive IT employers.
"We are delighted about the award," explains Dr. Oliver Grün, Board member of GRÜN. "It shows that we are doing a lot right with regard to our employees and that we are attractive as a medium-sized employer. This gives us the opportunity to survive the tough competition for talent and to be successful in the long term. "
Award from the Best Quality Institute BQI in Munich
The Munich Best Quality Institute BQI and the IT media company IDG have presented the award for the first time. The award goes to IT manufacturers and service providers and companies with IT departments from areas such as management consulting or manufacturing.
They can apply and their employees have to answer a catalog of 65 questions about personnel development, salary levels, salary increases, career opportunities, employee turnover, training budgets or social benefits.
Send us a message if you want to know exactly how our solutions can support you. We are looking forward to your contact
Contact inquiry