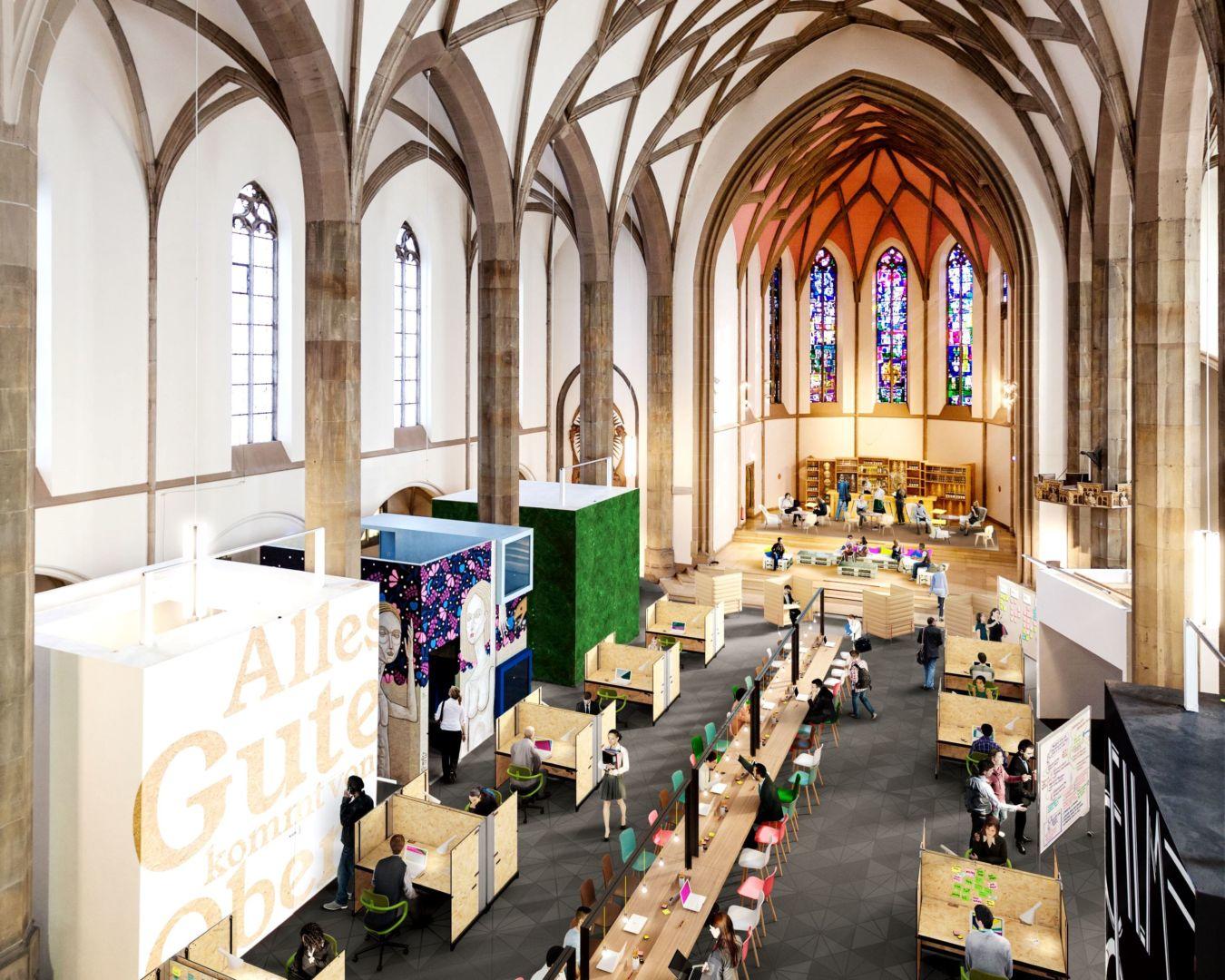 digitalHUB Aachen is developing DIGITAL CHURCH as a lighthouse.
Aachen, June 26.06.2017, XNUMX Aachen should arrive on the digital map of Germany. To this end, there is a broad coalition of business, science and politics, which is supported by the GRÜN Software AG with the initiative of the digitalHUB Aachen made possible. The designated new location of the digitalHUB in the former church of St. Elisabeth is to be developed as a real estate to become a beacon of digital change. That is why Landmarken AG developed a concept by Norbert Herrmanns, whose family is the owner of the church, together with the digitalHUB, which sets the location as the anchor of a new digital quarter. For this reason, the former St. Elisabeth church is now the "DIGITAL CHURCH".
On the one hand, the DIGITAL CHURCH will become the new location of the digitalHUB Aachen, which will open its co-working space for startups, medium-sized companies and industry on July 7th. On the other hand, DIGITAL CHURCH will remain available for many types of events in order to continue to fulfill its importance as a meeting place and event location. In future, DIGITAL CHURCH can also be rented for open cultural or private events. Landmarken AG and digitalHUB agreed on this new, differentiated use of the place in the sense of a shared space. Dr. Oliver Grün, Chairman of the digitalHUB adds: "We think it is important to join forces and to break new ground, also with regard to the use of a property. In the shared space of the DIGITAL CHURCH, the digitalHUB is the main tenant and creates a digital ecosystem, at the same time we are opening the church as an independent event location by the landlord. Together we give the place a greater radiance. "
Furthermore, the DIGITAL CHURCH is intended to serve as the nucleus of an entire quarter for companies that want to actively help shape digitization. To this end, Landmarken AG is planning additional offers of office space in the immediate vicinity of DIGITAL CHURCH and thus to digitalHUB. "With the DIGITAL CHURCH as a lighthouse and anchor property, it can be possible to create a lively digital quarter. We can already offer additional office space for growth companies, for example in the adjoining DIGITAL CHURCH chaplain. Bringing in the digitalHUB community creates an optimal environment, "explains Norbert Hermanns, CEO of Landmarken AG.
Send us a message if you want to know exactly how our solutions can support you. We are looking forward to your contact
Contact inquiry