"Ärzte ohne Grenzen" with the GRÜN Fundraising Award honored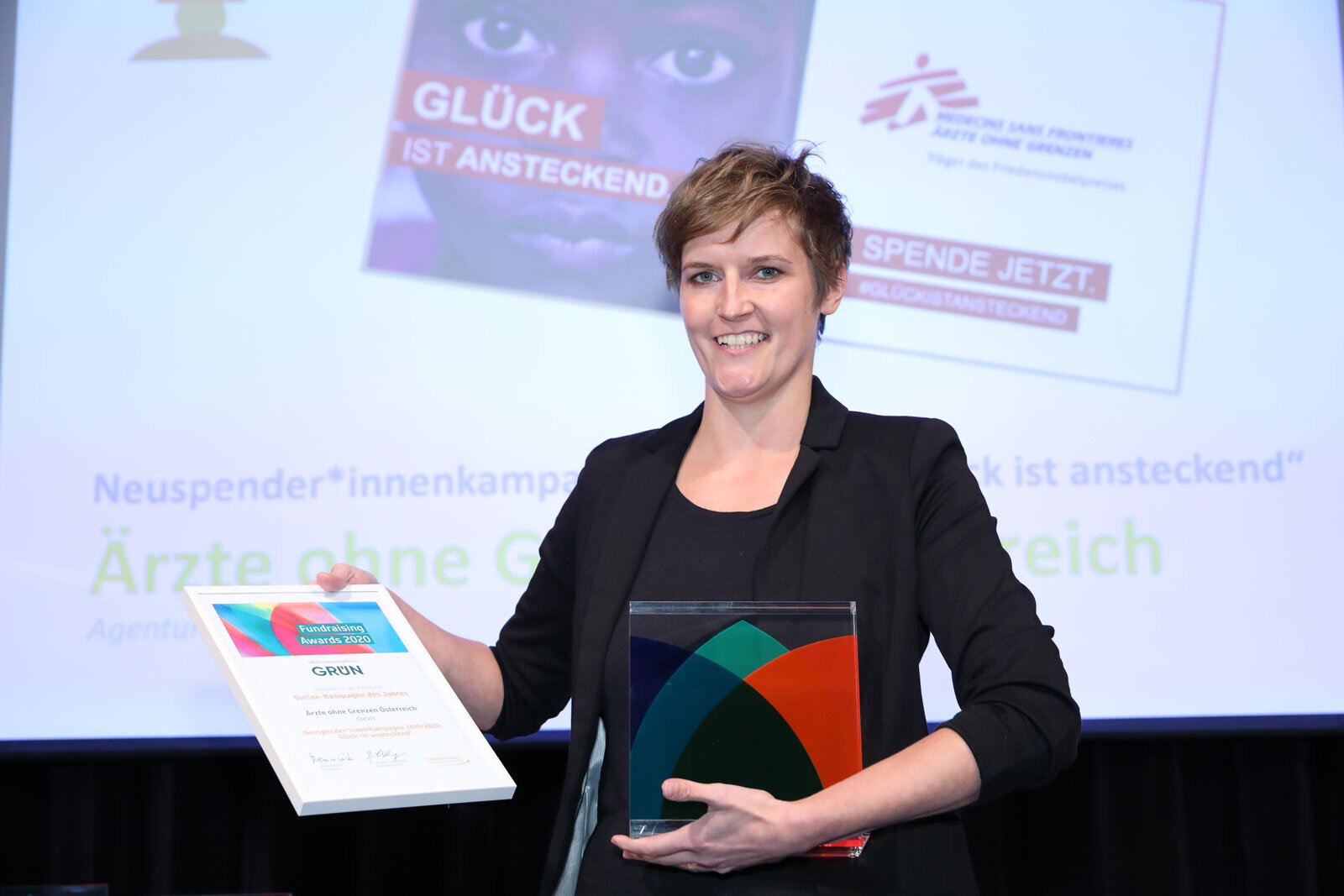 Andrea Buhl-Aigner, Head of the Digital Communications Unit at Ärzte ohne Grenzen Austria, with the certificate and the cup of GRÜN Fundraising Awards. Photo credits: FVA / Ludwig Schedl
The aid organization Ärzte ohne Grenzen was awarded at the 27th Austrian Fundraising Congress for the online campaign "Glück ist contagend" with GRÜN Fundraising Award honored.
Aachen / Vienna, October 07.10.2020th, XNUMX. Under the motto "Moving Forward: Turbulent times as a source of inspiration", the 27th Austrian Fundraising Congress take place in Vienna. Due to the current development of the corona pandemic, the two-day face-to-face event was converted into a three-part online congress at short notice. The first part of the online congress took place on October 5, 2020. One of the highlights on this day was the annual presentation of the Fundraising Awards. Awards were presented in a total of seven categories. One of the seven awards is the GRÜN Fundraising Award that recognizes the best online campaign of the year.
For the tenth time, the Aachen GRÜN Software Group together with the Austrian GRÜN Fundraising Services Ltd, Provider of market-leading fundraising software for donation organizations in Austria and Germany, the GRÜN Fundraising Award presented. The award goes to innovative online campaigns that have involved, motivated and inspired people. Creativity, fundraising success and a variety of methods are the decisive criteria. This year it was Ärzte ohne Grenzen for the online campaign "Glück ist ansteckend" excellent.
"Glück ist ansteckend"Is an online campaign of the Ärzte ohne Grenzen to acquire new donors. The focus of the campaign was on emotional, highly interactive social media ads. Attention and engagement were generated through organic Facebook posts and a series of emotional videos. The contacts were then converted into new donors via retargeting and daily performance optimization and then transferred to a loyalty program. Dr. Oliver Grün, Chairman of the Management Board of GRÜN Software Group GmbH, congratulated the winners on this great online campaign in his video address.
The GRÜN Fundraising Award was the third award that day for Ärzte ohne Grenzen, after the organization has already received awards for the "Fundraising Spot of the Year" and the "Fundraising Innovation of the Year".
Download press release
Send us a message if you want to know exactly how our solutions can support you. We are looking forward to your contact
Contact inquiry