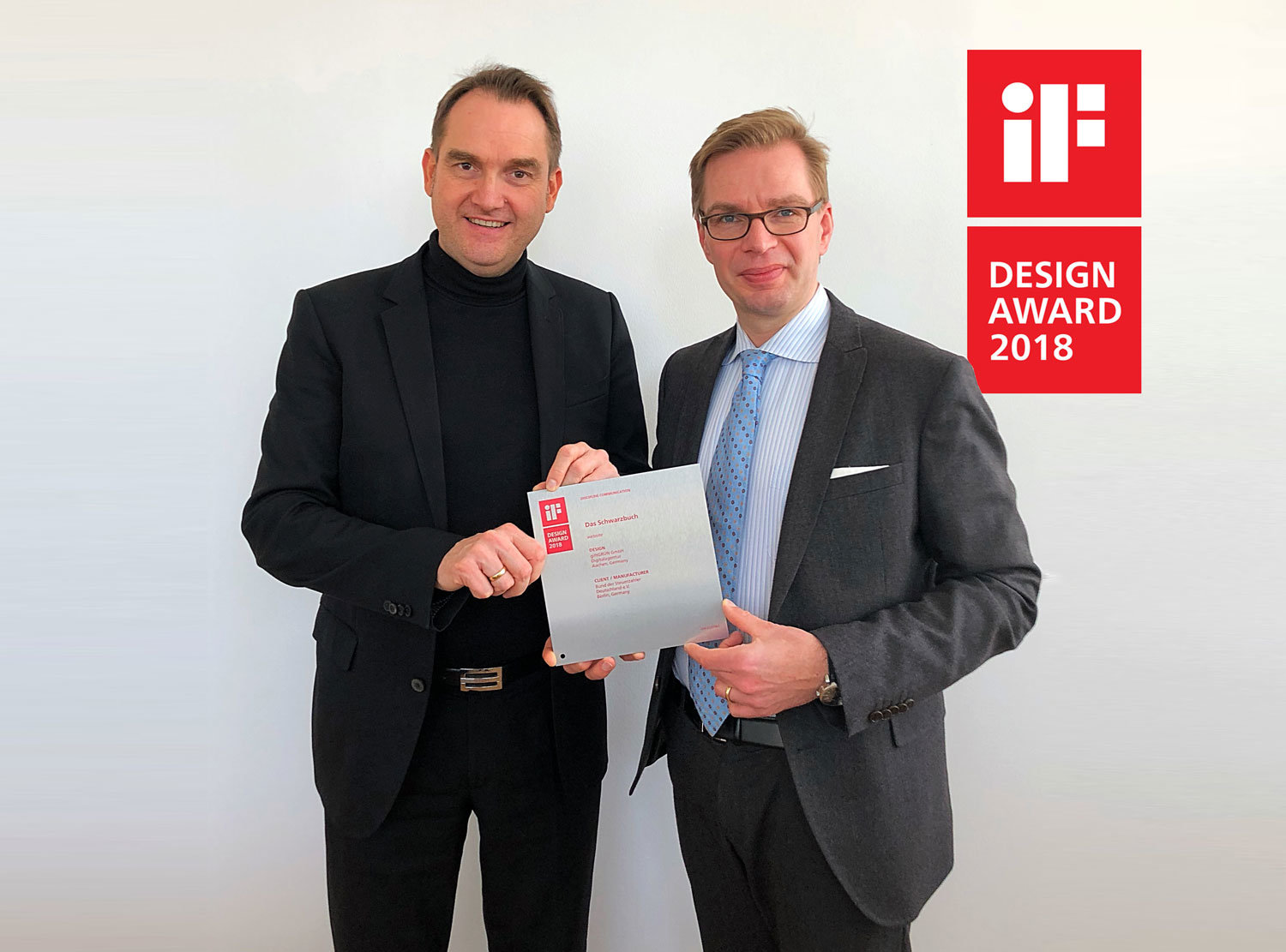 Dr. Oliver Grün (left), CEO of GRÜN Software AG and Reiner Holznagel, President of the Association of Tax Payers Germany e. V., with the iF Design Award 2018.
Aachen digital agency giftGRÜN Awarded the renowned iF Design Award for the relaunch of the well-known website www.schwarzbuch.de of the Association of Tax Payers Germany eV.
Aachen, October 23.03.2018nd, XNUMX. giftGRÜN, the digital agency of GRÜN Software AG, was used for the new design of the website www.schwarzbuch.de Awarded an iF Design Award together with the Bund der Steuerpayers (BdSt). On this website, the BdSt regularly shows current examples of wasted tax money.
The Association of Taxpayers researches and publishes cases in which the public sector is careless with citizens' money. The website presents and discusses examples of waste, absurdities in dealing with tax money and proposed solutions. In order to expand this platform for the fight against the waste of taxpayers' money, the Aachen digital agency giftGRÜN commissioned with a relaunch. giftGRÜN has the website www.schwarzbuch.de completely redesigned and expanded. "The Black Book was not only redesigned, but also completely tailored to the new content marketing strategy of the Association of Taxpayers. Our goal is to bring even more visitors to the website through good content, "says Patrick Heinker, Managing Director at giftGRÜN. Thanks to the digital innovation, the number of visitors to the website was increased and even more people were made aware of the topic of wasting tax money.
In addition to the website, the annual print edition of "Das Schwarzbuch. Public Waste "by giftGRÜN graphically refreshed. This print edition was ordered over 10.000 times in the first few weeks after publication. A total of around 50.000 copies were sent.
About the iF Design Award
The iF DESIGN AWARD is awarded once a year by Germany's oldest independent design institution, iF International Forum Design GmbH in Hanover. The black book was able to convince the 63-member international jury of experts. The number of applicants was large: the jurors had to award the coveted seal of approval from 6.400 submissions from 54 countries.
Another award for giftGRÜN
Receives the iF Design Award giftGRÜN another award for a public, political campaign. For a campaign against violence in the public service, which had been initiated with the dbb youth of the German Association of Officials, was giftGRÜN with the European Excellence Awards 2017 and the Political Award 2016 .
Send us a message if you want to know exactly how our solutions can support you. We are looking forward to your contact
Contact inquiry