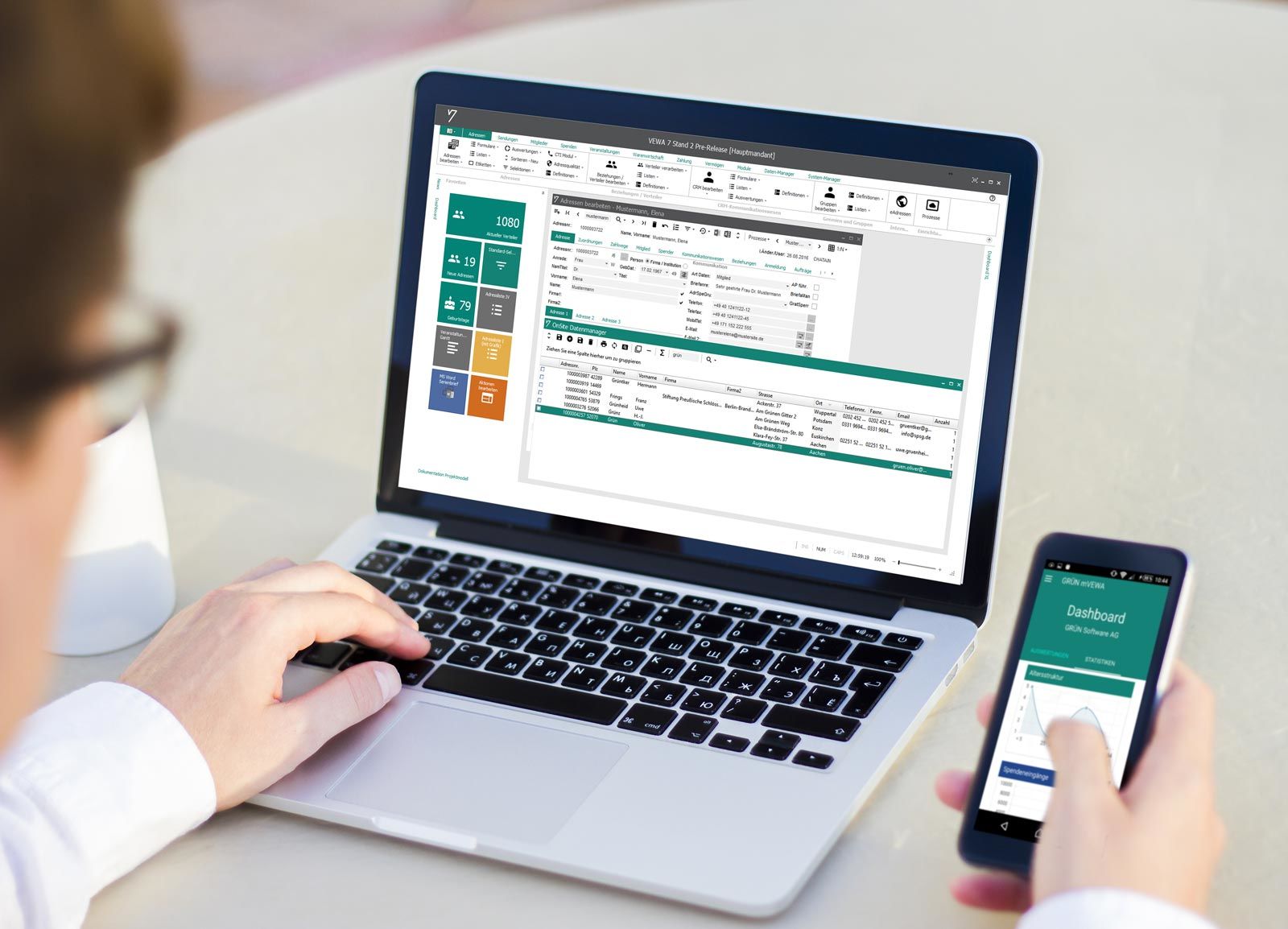 The new version of GRÜN VEWA7 has been completely revised graphically. The new native app GRÜN mVEWA allows access to the most important data via mobile devices.
The GRÜN Software AG contributes GRÜN VEWA7 presents the new version of the market-leading industry software for member and donation organizations as well as for education providers. The latest version is characterized by higher performance and new functions. New native app for smartphones and tablets enables you to work with VEWA on the go.
Aachen, October 21.11.2016nd, XNUMX. GRÜN VEWA, the flagship of GRÜN Software AG, is in the version 7 been published. As industry ERP software, the software supports almost every conceivable business process in non-profit organizations, associations, clubs, academies or further training institutes. Thanks to the new, modern design, achieve a significant increase in performance when managing large amounts of data and numerous new functions GRÜN-Customers now have even more competitive advantages with the new version.
The user interface of GRÜN VEWA7 has undergone a complete facelift and appears in a modern flat design. "The modern user interface makes it easier to operate the software" Dr. Oliver Grün, Board Member and CEO of GRÜN Software AG as an advantage for customers. But a lot has changed under the hood too. As a framework GRÜN VEWA7 on the well-known .NET development technology that Microsoft provides for software development. Thanks to the technical innovations GRÜN VEWA7, especially when managing large amounts of data, significant increases in performance.
In GRÜN VEWA7 added new functions. Thanks to new analysis and evaluation tools, users can, for example, create their own graphical dashboards that provide the most important key performance indicators (KPIs). The processes in the standard models for the target industries have also been optimized and further specialist functions have been added.
Native app GRÜN mVEWA enables access via mobile devices
The new native app GRÜN mVEWA for iOS and Android enables you to work with VEWA solutions via mobile devices such as smartphones or tablets. All data from VEWA is synchronized and stored on the mobile device so that it is also available offline. The app also enables industry-specific functions to be mapped.
The high flexibility of the software allows the modeling of almost all business processes of the user. The scalability of GRÜN VEWA7 can be used in all dimensions in terms of scope of services and costs. "The modular structure with integrated managers for the individual setup of the software as well as over 30 additional modules adapts optimally to the requirements of our customers," says Grün.
Send us a message if you want to know exactly how our solutions can support you. We are looking forward to your contact
Contact inquiry