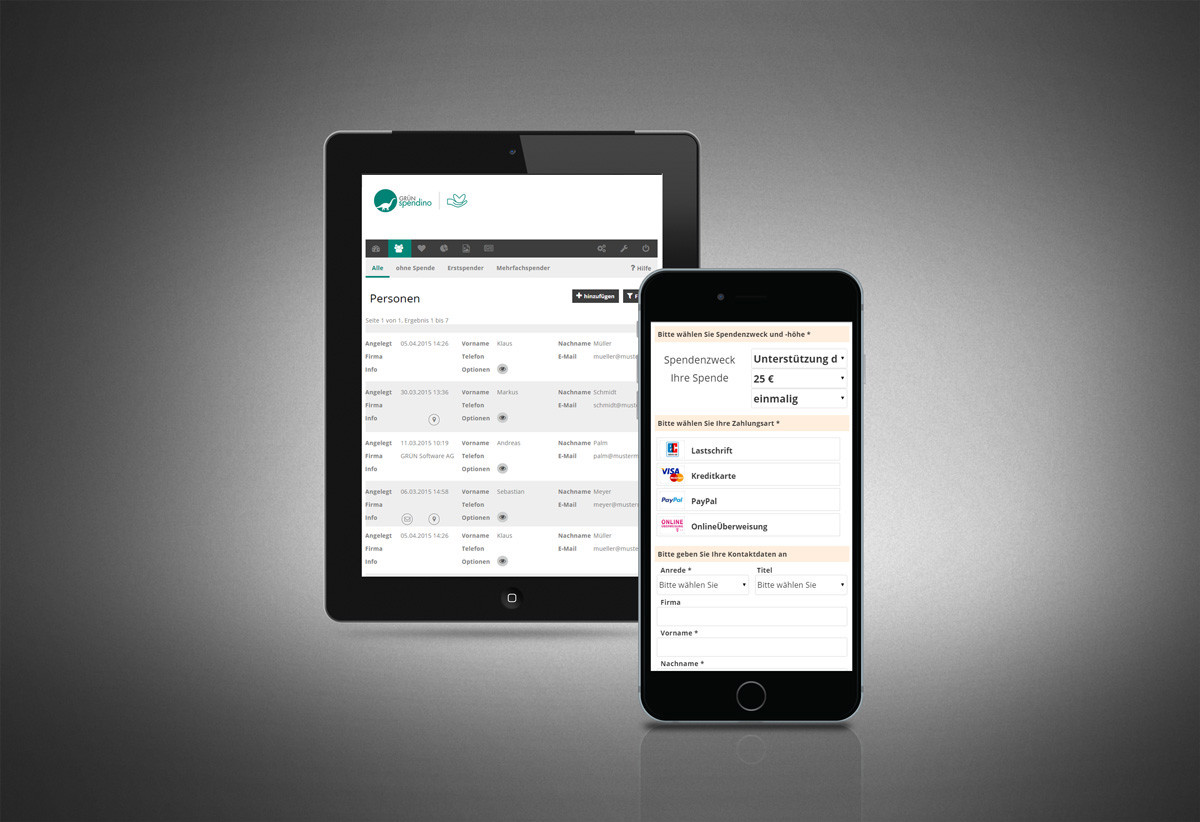 New GRÜN spendino Cockpit: In addition to improved usability, all information can be accessed on mobile devices and tablets.
Aachen, October 16.04.2015nd, XNUMX. With our April update we have that GRÜN spendino Cockpit improved for you in three areas. Thanks to the improved usability, we enable even inexperienced users to operate the cockpit simply and intuitively. Thanks to the new responsive design, your cockpit and the donation forms can also be accessed on tablets and smartphones.
The cockpit for managing your online donations
Your Cockpit in GRÜN spendino has been fundamentally revised, which simplifies the clarity, maintenance of donor data and donor communication.
Donation forms in responsive design
The second major innovation are the donation forms in the, optimized for different devices (computers, tablets & smartphones) Mobile fundraing. The latest experiences and findings from usability research have flowed into the development, which the GRÜN Software AG as a partner of the initiative Simply intuitive - usability for medium-sized businesses from the Federal Ministry for Economic Affairs and Energy. The color gradients have been removed and neutral colors have been preselected for you. Furthermore, the web version of the form and the mobile version have been combined (responsive design). The form recognizes whether the user is accessing your site from a PC or smartphone and adapts accordingly to the user's device.
Donation form in the organization's CI
By freely choosing the colors of your form, we are fulfilling one of the most frequently mentioned requests from our customers. With the form generator you can customize your Donation form, Your button, your widget and the help bar to your favorite color or corporate design. Try this new cockpit .Easy color adjustments with the GRÜN spendino form generator
You are not yet a customer? We would be happy to provide you with the new one GRÜN spendino cockpit via web presentation.
Send us a message if you want to know exactly how our solutions can support you. We are looking forward to your contact
Contact inquiry