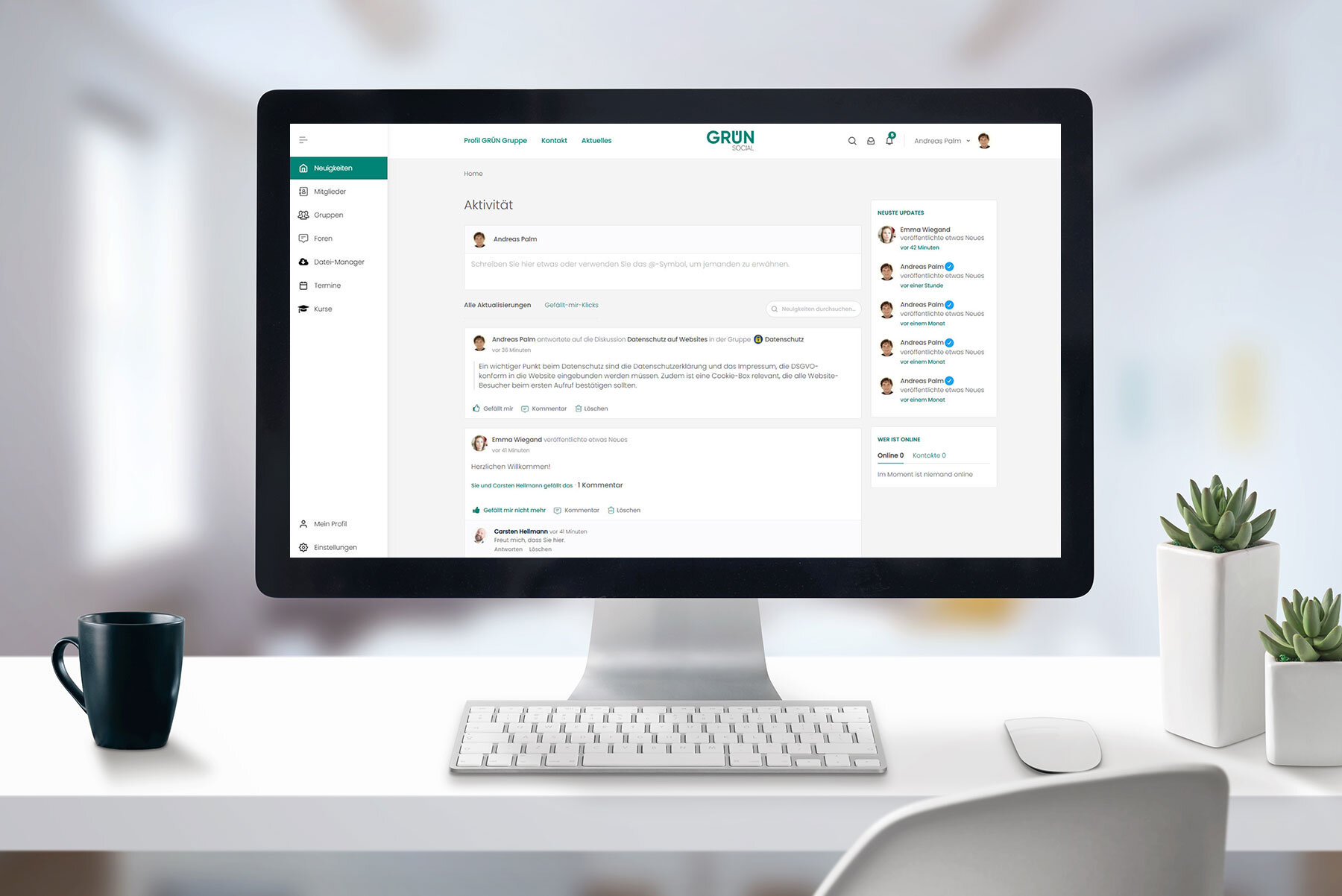 GRÜN SOCIAL2 is the quick starter solution for social intranets.
GRÜN.SOCIAL as a social intranet solution new in version 2. With basic WordPress technology, support is provided by a digital agency giftGRÜN. Integrated new features. Seamless integration into the online industry software GRÜN eVEWA.
Aachen, October 01.07.2021nd, XNUMX. The Aacheners GRÜN Software Group publishes the new and functionally expanded social intranet solution GRÜN.SOCIAL in version 2. Basis of GRÜN.SOCIAL2 is the world's leading content management system WordPress, supported by giftGRÜN, the digital agency of GRÜN Software Group.
GRÜN.SOCIAL is one of the quick starter solutions from GRÜN Group and enables immediate and productive use as a social intranet solution. This software continues to offer all the important and proven functions for building effective online collaboration in organizations and companies. In addition to the well-known, self-organizing virtual groups through which all users can communicate with one another in real time, forums and file sharing are among the basic functionalities. In GRÜN.SOCIAL also added new functionalities. "With the increased work from the home office, the importance of social collaboration tools has increased enormously in the last few months," says Dr. Oliver Grün, CEO of GRÜN Software Group GmbH. Patrick Heinker, managing director of the digital agency giftGRÜN adds: "This is why we have new functions in GRÜN.SOCIAL added to support this. In addition to the new functions, the design and user experience in GRÜN.SOCIAL completely revised and optimized. "
Meetings with colleagues are increasingly being held online in many organizations and companies. GRÜN.SOCIAL supports this development by integrating Zoom. New Zoom meetings can be accessed directly via GRÜNCreate .SOCIAL. Once integrated into a group or forum, the countdown timer shows when the Zoom meeting starts. Recorded meetings, including video and audio recordings and chat histories, can also be saved in GRÜN.SOCIAL are made available.
Also new in GRÜN.SOCIAL: A simple eLearning Management System (LMS) can be used to set up a learning platform with audiovisual media. In this way, users can consume knowledge at any time and exchange ideas with other users in real time via the forums and groups, thus creating a collaborative learning and knowledge environment. GRÜN.SOCIAL also enables the creation of learning progress reviews or quiz questions with single and multiple choice answers, fill in the blank, surveys or sorting questions. After successfully passing the exam, all users automatically receive an official certificate, which of course can be completely adapted to your own corporate design.
GRÜN.SOCIAL can be seamlessly integrated into GRÜN eVEWA, the online industry software for non-profit organizations and for education providers. This is made possible by a single sign-on, a secure authentication process in which the user enters their own login data once in eVEWA and these are automatically transferred to the connected GRÜN.SOCIAL are passed on. What is also special is that individual functionalities of GRÜN SOCIAL can be seamlessly integrated into the eVEWA environment. For example, the group functionality, the eLearning area or the document system can be integrated into eVEWA as individual functions.
Base of GRÜN SOCIAL is the world's leading content management system WordPress and is therefore subject to an open source technology with permanent further development. GRÜN.SOCIAL can be used in the Aachener GRÜN App Cloud as well as hosted on other servers.
Send us a message if you want to know exactly how our solutions can support you. We are looking forward to your contact
Contact inquiry