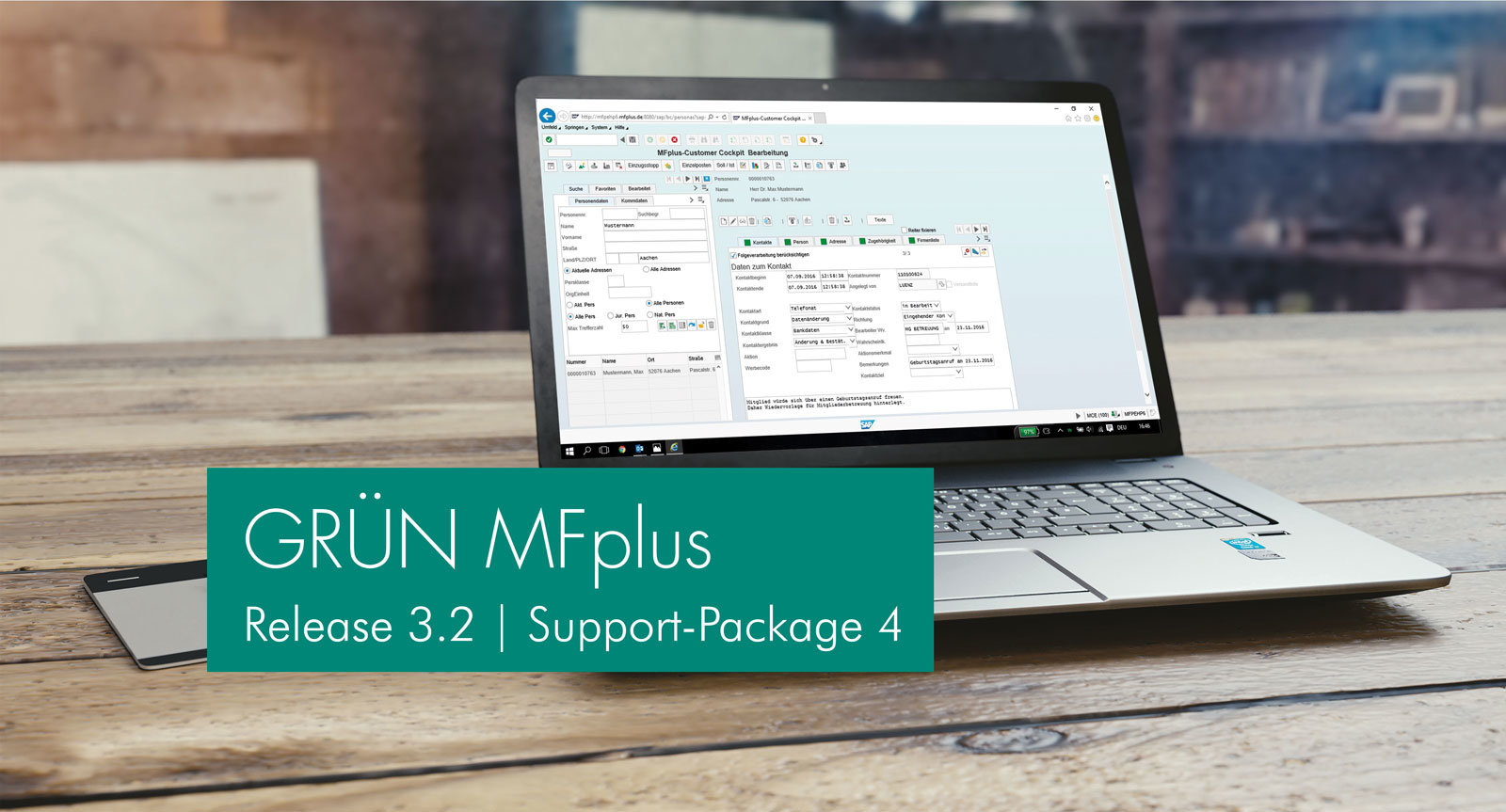 GRÜN MFplus Support Package 4 published.
The GRÜN Software AG has the new on April 6th Support Package 4 for the SAP-based member and donation management GRÜN MFplus released. With this support package, MFplus meets the requirements of May 2018 Privacy policy (GDPR). Initial information on the GDPR was provided for GRÜN MFplus in one Whitepaper in our closed customer portal GRÜN inside published.
With Support Package 4, authorizations, i.e. optins and optouts for members or donors, can be added to GRÜN MFplus can be managed. A new tab has been added to the MFplus cockpit, in which authorizations for individual communication channels can be easily and conveniently managed. If, for example, there is an opt-in for a private e-mail address or an opt-out for a mobile number, these authorizations are stored in MFplus for the respective person. Additionally enables GRÜN MFplus the coupling of authorizations to uses so that authorizations for established fundraising campaigns or member mailings can be recorded.
Other important aspects of the new data protection guidelines are the right to information, the right to delete and the right to data portability. For each of these aspects an additional function was added in GRÜN MFplus added. The customizing settings allow flexible activation of the functions in all areas (relations, attributes, etc.) of MFplus. Relevant information can be output in lists, logs or files. Of course, MFplus takes into account the retention periods for data to be deleted.
If a data record cannot be deleted, the person has the right to restrict processing in accordance with data protection regulations. In this case, the blocked people are given a global data protection block, a deletion flag and a global NoMail flag. This global lock is automatically stored in the main person table. The name and address data of these persons are outsourced and blocked so that such data records can only be viewed. Use is no longer possible.
Support Package 4 also includes other innovations. If a member or donor accepts the data protection declaration in an online form, in GRÜN MFplus a timestamp of approval is recorded and saved. A field of origin has also been added to the attributes so that it is possible to trace where the data came from at any time.
The GRÜN Software AG provides all MFplus customers with Support Package 4 free of charge. We recommend that customers import this support package into SAP immediately. Our MFplus team will be happy to support you if you have any questions or if you need to compare SPDD and SPAU as part of the system update.
Send us a message if you want to know exactly how our solutions can support you. We are looking forward to your contact
Contact inquiry