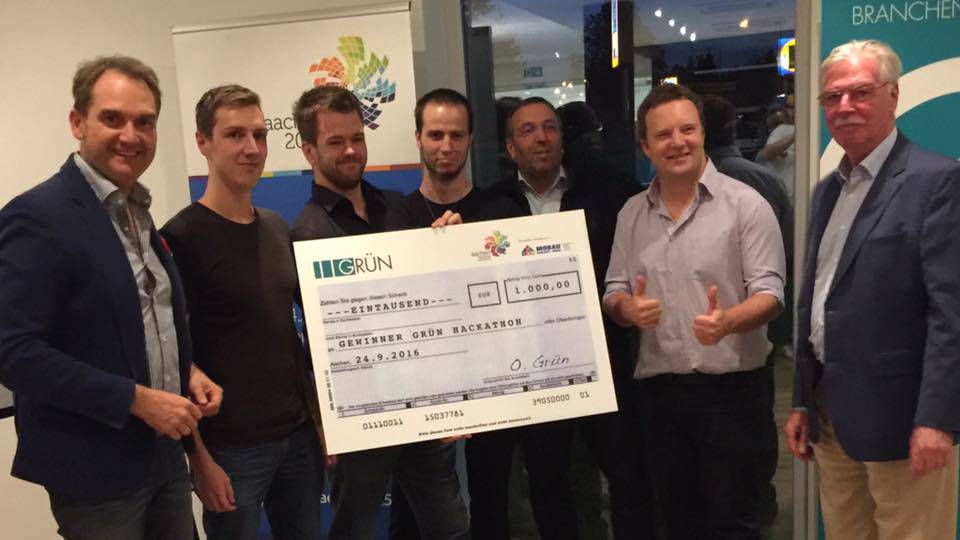 The winning team of the first GRÜN Hackathons and the two jurors Oliver Grün (left) and Dieter Philipp (right).
The GRÜN Software AG organized a hackathon as part of Aachen2025. Divided into four teams, innovative ideas for digitizing the craft were developed. Winning team receives 1.000 euros.
Aachen, October 26.09.2016nd, XNUMX. Many Aachen companies opened their doors last weekend as part of the Aachen2025 event. Divided into eight theme parks, interested visitors were able to get an idea of ​​how digitalization will change life sustainably by 2025. The GRÜN Software AG had in common with the Digital agency giftGRÜN and the Mobau Baustoff Union also took part in this event and invited to a hackathon in the "Working" theme park on Saturday, September 24, 2016.
Around 20 developers, users and craftsmen were invited to the Innovation Center GRÜN Software AG followed in order to jointly develop digital solutions that are intended to improve the cooperation between craftsmen and clients. The starting shot was at 9 o'clock. Dr. Oliver Grün, Board Member and CEO of GRÜN Software AG, presented the task in a short introduction. Subsequently, concepts, click prototypes and software solutions were developed, divided into four teams.
Each team had developed an individual approach and presented it to a high-ranking jury at 18 p.m. The five-person jury, consisting of Dieter Philipp (President of the Aachen Chamber of Crafts), Prof. Dr. Stefan Kowalewski (Professor of Computer Science at RWTH Aachen University), Andera Gadeib (online enthusiast and entrepreneur), Dr. Oliver Grün and Patrick Heinker (managing director of giftGRÜN GmbH) evaluated the four solutions according to their degree of innovation, feasibility and market opportunities.
Team "Blau" was able to convince the jury with its "GRÜN Card". In this proposed solution, an innovative concept for construction projects with more than five participants was presented, which resolves possible ambiguities at the construction site, enables simple communication via the native functions of today's smartphones and also creates an automatic evaluation of the construction project. In addition to the craftsmen and the client, communication and exchange with the architect and the individual skilled workers were also integrated into this concept. Thanks to the hierarchical structure, the software creates a separate "card" for every problem and question, in which the people involved can communicate via their tablet or smartphone.
The winning team was rewarded with prize money of 1.000 euros. In addition, the team was invited to join the GRÜN Software AG will further develop the concept in a workshop and check it for market readiness.
Download press release
Send us a message if you want to know exactly how our solutions can support you. We are looking forward to your contact
Contact inquiry