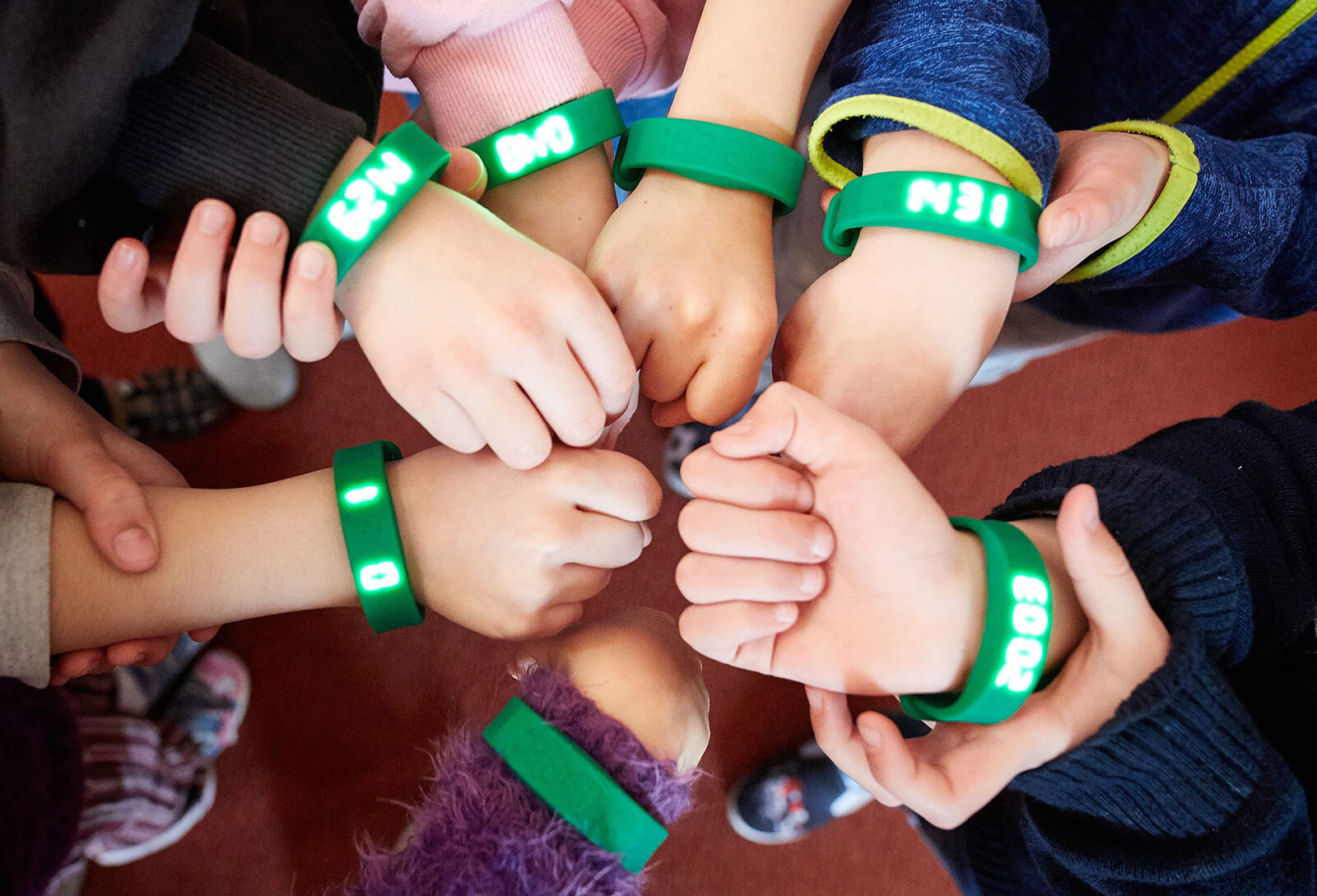 The step trackers that count the steps of the childrenImage rights: planero GmbH / Konstantin Volkmar
Software company donates more than 10.000 euros to Deutsche Sporthilfe and the Cleven Foundation. Exercise and motivation program for pupils at primary schools in Aachen.
Aachen, June 11.12.2020, XNUMX. GRÜN Software Group supports national and regional activities in the field of sports promotion with donations of more than 12.000 euros. The Aachen-based company donates to charitable foundations German sports aid to promote top-class sport and the Cleven Foundation Germany for the Exercise and motivation program eStep for third and fourth grade students in the Aachen area.
The financial support provided by Deutsche Sporthilfe is the only way for top athletes from many disciplines to survive in competitive sports and at the same time to provide professional training without much media attention. Deutsche Sporthilfe thus assumes an important social responsibility for top-class sport. "While in other countries of the world state recognition is also given in financial form for successful top athletes at the Olympic and Paralympic Games, in Germany the greatest support is provided by the non-profit foundation Deutsche Sporthilfe. Without this support, competition in competitive sports would in many cases be impossible. It is not without reason, for example, that basketball player Dirk Nowitzki says that his career would not have existed without Sporthilfe. We like to promote top performance and fairness ", so Dr. Oliver Grün, CEO of GRÜN Software Group.
Still supported GRÜN the interactive step competition step at Aachen elementary schools with a donation. The project is an initiative of the Cleven Foundation Germany and aims to encourage third and fourth grade students to do more exercise and sport. The students receive a digital fitness bracelet and collect steps in the class. At the start of the active competition phase, which began on December 9, 2020 and will last until February 24, 2021, the children received free fitness wristbands. The data of the fitness armbands are anonymized and transferred to a virtual class step account. This allows the school classes to compete against each other and in the end a winner can be determined. "As a family-friendly software company, the motivation of children to exercise and exercise more using a digital wristband is really perfect for us, so we were happy to be involved in this project with other Aachen companies," says Dirk Hönscheid, Managing Director of GRÜN Software Group. With the support of 14 companies from the Aachen city region, 750 children from 33 third and fourth grades are now taking part in the step competition.
As the initiator, the Cleven Foundation Germany focuses on promoting health and physical activity in children. The focus of the foundation's commitment is to convey to children joy in exercise, healthy nutrition and brain fitness and to have a lasting positive influence on their lifestyle in a playful way. In 2020/21, more than 250 classes with around 5.000 third and fourth graders will take part in step nationwide.
Since the start of the step exercise and motivation program in March 2018, around 14.500 children have successfully participated in step, collecting 3,6 billion steps and covering a total of around 1,7 million kilometers.
Important links:
Download press release
Send us a message if you want to know exactly how our solutions can support you. We are looking forward to your contact
Contact inquiry