GRÜN spendino on the road to success: over 100 new customers in the last 12 months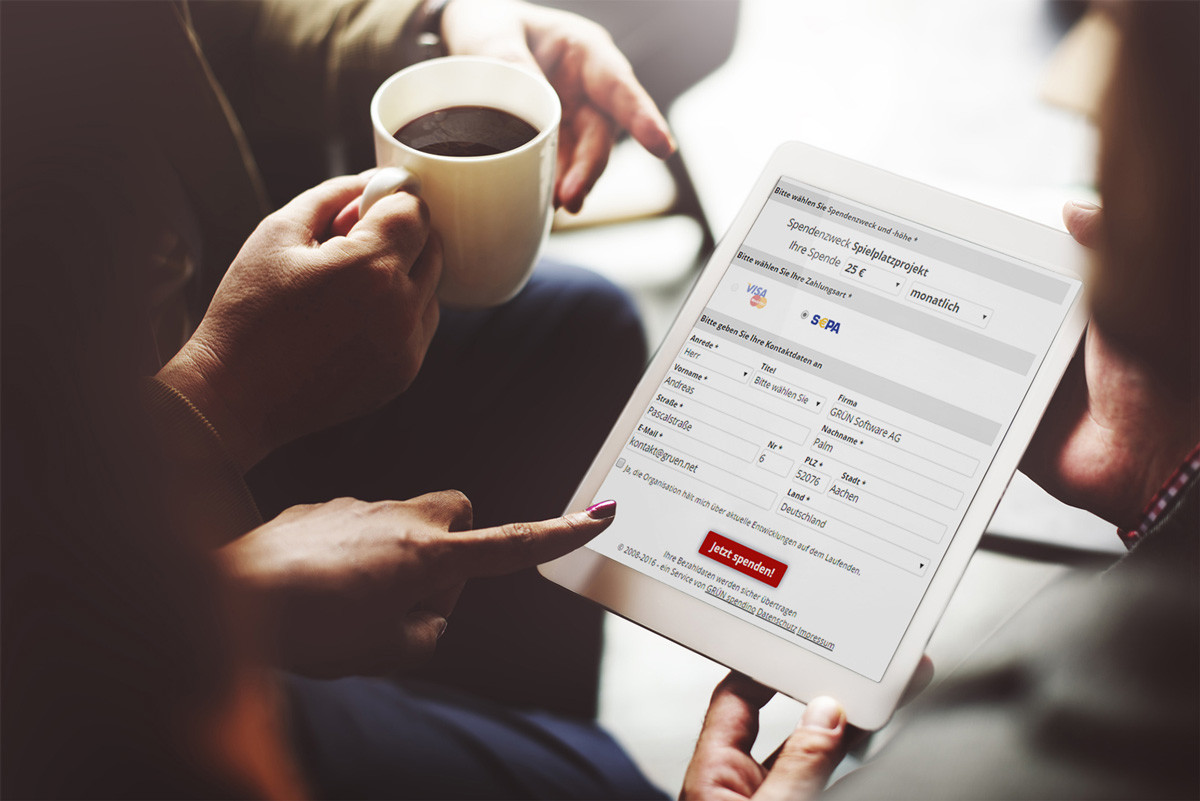 Over 100 new customers have signed up for GRÜN spendino decided as an online fundraising solution.
New features in the online fundraising solution GRÜN spendino. New partners integrated. Workshop videos planned for fundraisers.
Aachen, October 29.08.2016nd, XNUMX. GRÜN spendino, the online fundraising solution of the GRÜN Software AG, is still on the road to success. In the last 12 months alone, over 100 new customers were acquired.
The fundraising software is constantly being developed and adapted to the needs of the customers. For example, in the Cockpit, the administrative center of GRÜN spendino, a CRM communication system for the management of tasks and to-do lists. In this way, for example, open tasks for sending project reports can be managed or reminders of donors' birthdays can be stored.
The Online donation forms have also been further developed. With SOFORT Überweisung, a new, strong payment partner was created in GRÜN spendino integrated. In addition, the connection to Paydirekt, the online payment system of the German banks, is currently being examined. The advanced settings in the form generator now allow additional configuration options. If the message field is activated, donors can optionally leave a message during the donation process.
GRÜN spendino has to be last year Price model customized. Depending on the success of the donation organizations, the basic fee adapts dynamically to the donation volume of the organizations. With the starter package from 25 euros a month GRÜN spendino also offers the perfect solution for small donation organizations.
One of the customer's requests was the provision of the form in English so that the donation forms can be used internationally.
Video tutorials for customers
Donation organizations can use the cockpit to call up free video tutorials that explain the functions of the cockpit. In a total of six video tutorials, for example, donor management or the creation of donation forms in the design of the donation organization are explained. "Videos can be viewed anytime, anywhere," says Dr. Oliver Grün, CEO and board member of GRÜN Software AG. "That is why we will be offering all customers a series of fundraising seminars as video tutorials in the next quarter." There are plans for tutorials on the subjects of email marketing, social media fundraising and SMS fundraising.
Download press release
Send us a message if you want to know exactly how our solutions can support you. We are looking forward to your contact
Contact inquiry