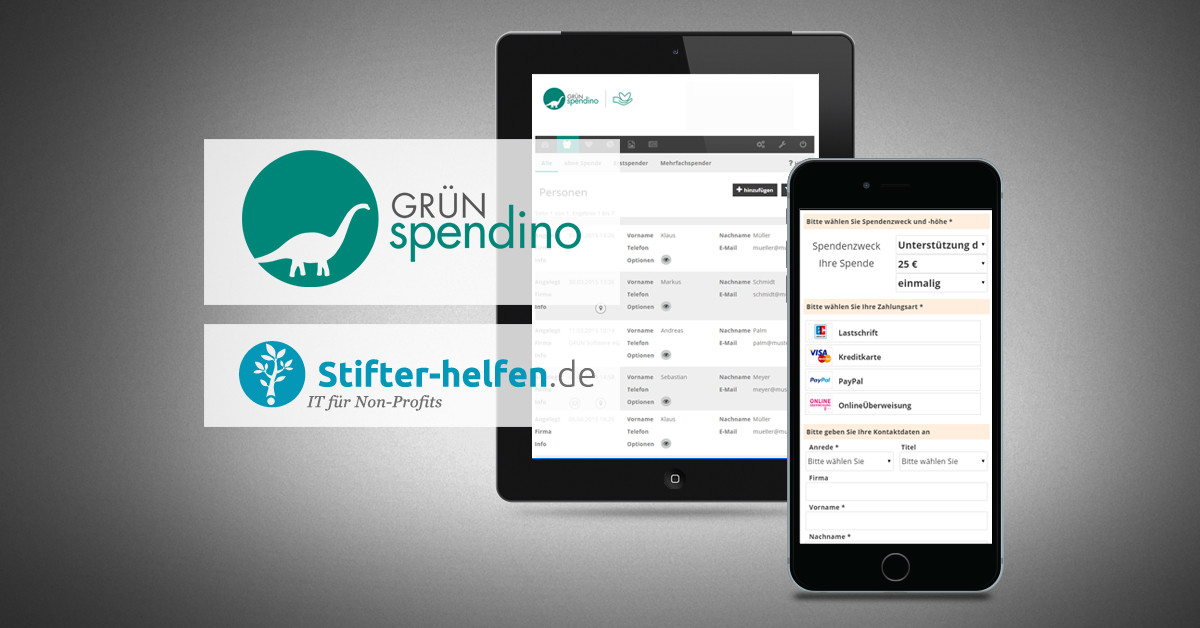 The GRÜN Software AG offers the online fundraising solution GRÜN Spendino is now on as an IT donor at Stifter-Helfen.de.
GRÜN Software AG is now making its online fundraising tools available as an IT donation on Stifter-Helfen.de. The availability applies to Germany and Austria.
Aachen, October 9.12.2015nd, XNUMX. GRÜN spendino, the online fundraising solution of the GRÜN Software AG is now the new IT donor on Stifter-helfen.net, the online portal for IT donations. The Aachen software company donates his Online donation form to non-profit organizations in Germany and Austria.
Donation forms for mobile devices
Donation forms can be created in a few minutes and integrated into your own website without any programming knowledge. GRÜN spendino is great for that Mobile fundraising, as the donation forms adapt to the resolution of computers, tablets and smartphones. In addition to the classic donation button GRÜN spendino also offers the donation form as a widget, compact form or as a help bar.
The online donation form offers payments by direct debit and bank transfer with no additional transaction costs. PayPal can optionally be offered as an additional payment method. In addition, the donor can choose between one-time or permanent donations, so that GRÜN spendino can ideally be used for sponsoring members or for sponsorships. GRÜN spendino immediately and automatically sends every donor a thank you email.
Donor management via the cockpit
The Cockpit in GRÜN spendino enables donation organizations to easily manage donor data, which users can export or select according to their wishes - for example according to the donation amount for a major donor mailing, according to region or other criteria. With the IT donation of the GRÜN Software AG is a full version that is limited to 100 contacts.
"We want non-profits to receive more donations and less administrative work. GRÜN spendino helps you with an easy-to-use fundraising software. We are happy to be able to support non-profit organizations in their work via Stifter-helfen.net ", explains Dr. Oliver Grün, Board Member and CEO of GRÜN Software AG.
Eligibility criteria
Eligible for the GRÜN spendino IT-Produktspende are non-profit organizations of the most varied of non-profit legal forms, such as associations, foundations, church organizations or gGmbHs.
The company donates its fundraising product to charitable organizations, regardless of their size or focus of activity. Any organization that is responsible for the GRÜN spendino IT-Spende is eligible for funding, can receive an annual account with a term of twelve months. An administration fee of 22 euros plus VAT is due, which is calculated directly by Stifter Helfen.
Send us a message if you want to know exactly how our solutions can support you. We are looking forward to your contact
Contact inquiry