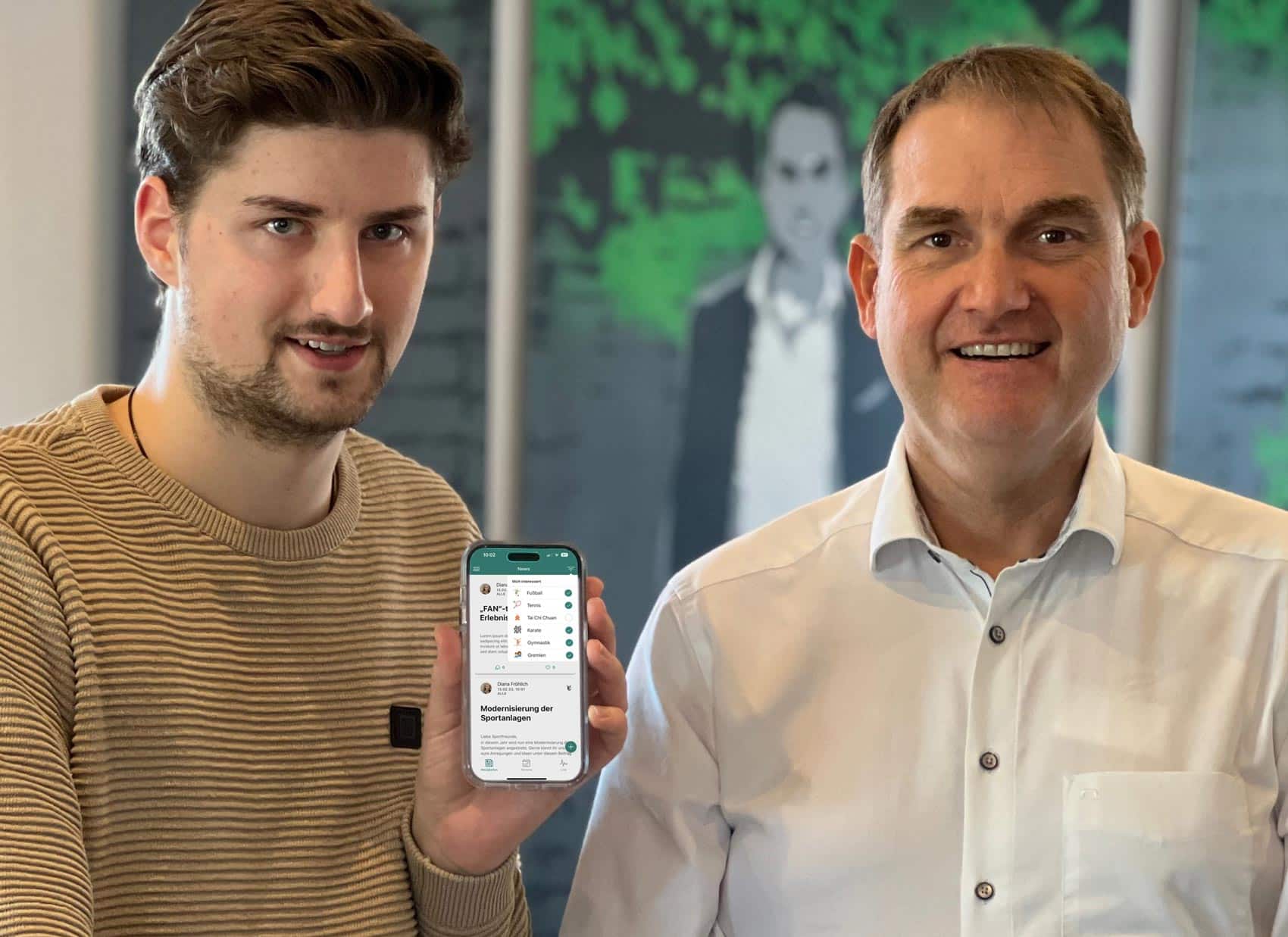 Leon Quacken (left) and Dr. Oliver Grün with GRÜN ClubHero, the app for sports clubs.
The GRÜN Software Group takes over the app of the same name for clubs from the startup Club-Hero.com and thus expands the portfolio of starter solutions for small and medium-sized clubs. ClubHero already manages the sports organization at over 60 sports clubs. Each club gets its own app in the Apple and Android stores.
Aachen, October 14.02.2023nd, XNUMX. The Aacheners GRÜN Software Group , the market-leading provider of industry software in clubs and associations, takes over the software Club Hero from the startup of the same name from Emden. The software, available as an Android and Apple app, supports both club communication with news, chat and data change functions, as well as the entire sports organization for trainers and trainers to organize sports groups, teams and team training sessions. ClubHero connects and organizes all active athletes and the administration in a sports club. The mobile app thus includes a wide range of services that is otherwise only offered by management software. Clubs also receive their own customized app in the store via a special deployment to strengthen their own branding and increase member and sponsor loyalty.
With the acquisition GRÜN the strategy continued as the market leader Software provider for clubs and associations as well as other institutions: "By including ClubHero in our starter solutions, we are expanding our portfolio of professional software solutions with a simple and immediately usable app for sports clubs. The organization of training sessions in all teams with dynamic changes in time, place and participants is a complex process that can now be coordinated intuitively and up-to-date by everyone involved via an app," says Leon Quacken, new product manager for ClubHero at GRÜN.
The co-founder and previous product manager of the startup ClubHero, Sascha Franke, is happy about the exit: "We put our heart and soul into developing a very powerful smartphone app and successfully won more than 60 clubs as customers who use the app regularly. In order to get closer to our vision of becoming the leading mobile operating system for sports clubs across Europe, we need to take ClubHero to a new level of development. With GRÜN we have found an investor who has the resources and networks to tackle this challenge."
Also for Dr. Oliver Grün, CEO of GRÜN Software Group GmbH, the new solution fits very well into the portfolio: "The ClubHero app complements our product portfolio. In the next step, we will connect our simple and complex membership management solutions with ClubHero via our digital ecosystem, then all solutions can be used in parallel without media disruption".
The GRÜN Software Group is a constantly growing group of industry software manufacturers. GRÜN offers with around 320 employees specialized industry software for institutions and companies from media, trade and industry, which is divided into four GRÜN-Platforms for these target groups are bundled. The group of companies follows the maxim "Industry needs specialists" and always focuses on industry software with individual subsidiaries. This means that the solutions are always tailored to one industry - as with the platform institutions in the area of ​​clubs and associations with more than 1.000 software installations, including Eintracht Frankfurt, the North Rhine-Westphalia Swimming Association or the Baden Sports Association. By bundling different industry solutions under one roof, there are also many synergy effects in the areas of development, marketing and also in the development of a digital ecosystem with interfaces between all industry solutions GRÜN Group.
Send us a message if you want to know exactly how our solutions can support you. We are looking forward to your contact
Contact inquiry