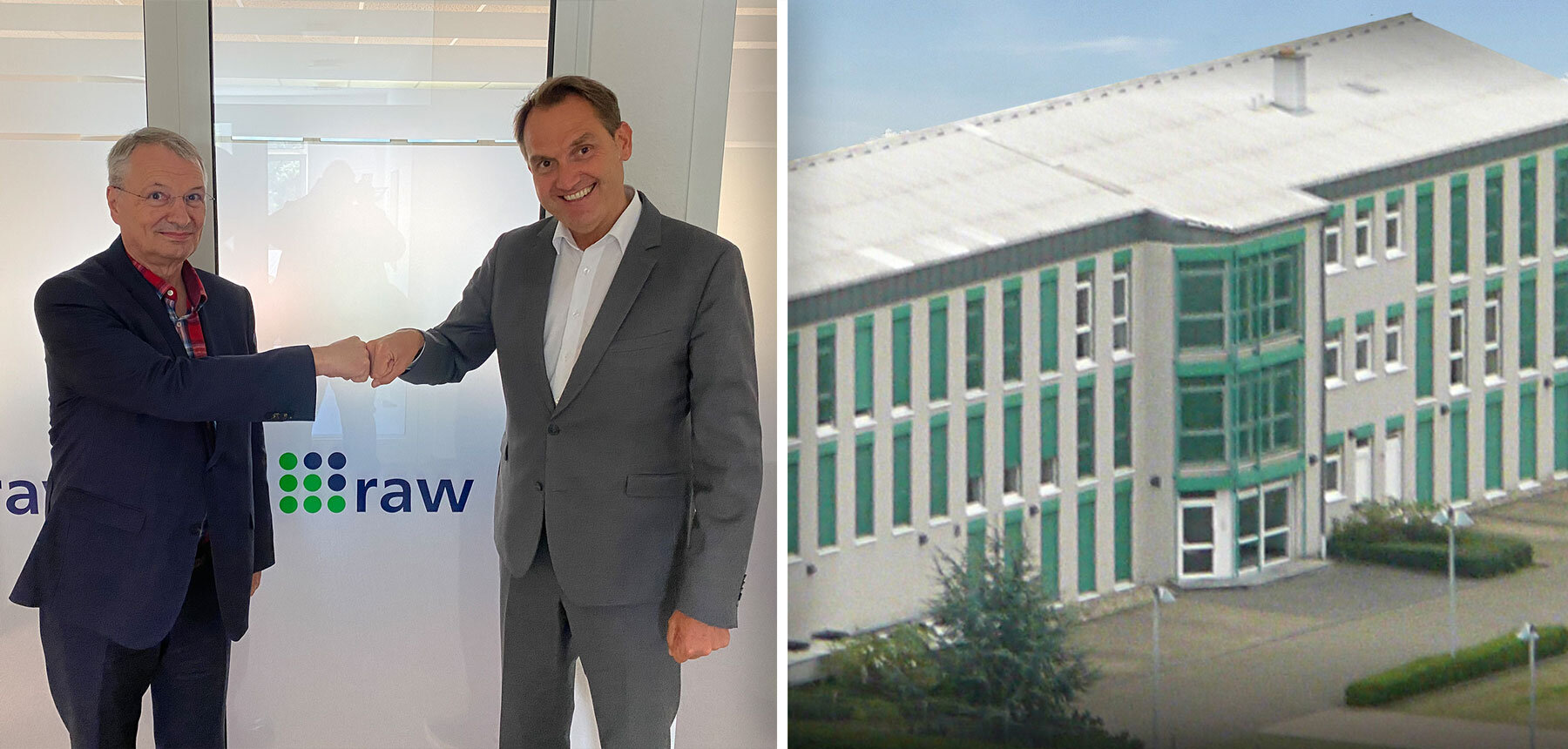 Introduce the generation change at raw Rechen-Anlage West: Alexander Kutsch (left) and Dr. Oliver Grün.
Leading software and service provider "raw" for associations in retail initiates generation change. Aachener GRÜN Software Group with 270 employees now takes over 100% of the shares. Long-time managing director Alexander Kutsch remains as Director Get strategy. The location and all contacts remain the same, the portfolio is expanded.
Aachen / Kreuzau, August 17.08.2021, XNUMX. The Aacheners GRÜN Software Group takes over all shares in raw Rake Plant West GmbH in Kreuzau near Düren, a leading software and service company for associations in retail and trading companies. The aim of the partnership is to support the growth and further development of raw and to be able to offer customers even better digitization solutions.
"For our employees and customers, a continuation and continuity of our long-term cooperation is just as important as a departure into a new future. We are happy to be with GRÜN To have found an experienced partner who, within the framework of a medium-sized and sustainable culture, can also bring many synergies for cooperation and innovation impulses for the future ", says the previous managing director and representative of the shareholders Alexander Kutsch.
The company from the Rhineland employs over 60 people today and, in addition to the "TeamServ" industry software for medium-sized trading companies, also offers billing portals and outsourcing in the area of ​​central accounting for groups of trading companies. Customers include members of Eurobaustoff and hagebau, associations such as INTERSPORT, unitex, Sport2000, Sabu, ANWR and Garant, but also the leading banks with a focus on central accounting in German-speaking countries.
Auch Dr. Oliver Grün, CEO of GRÜN Software Group GmbH, is pleased about the new company in the GRÜN Group: "As a software and technology partner in retail groups, raw is one of the market leaders in Germany. Together with the raw team, we will now drive the consistent further development of products, services and the company in order to convince even more customers of raw in the future. "
The long-standing managing director and representative of the previous shareholders, Mr. Alexander Kutsch, will remain with the company in the future as "Director Strategy "and passed the management to Mr. Dr. Oliver Grün to hand over. As a team, both will initiate a suitable and sustainable succession in the raw management: "We want to supplement the proven management in raw with four colleagues in the extended management in the future and strengthen it in the area of ​​strategy and marketing," said Kutsch and Grün.
The GRÜN Software Group is a constantly growing group of industry software manufacturers. GRÜN now with around 270 employees offers B2B software for business-critical processes in companies and institutions for various industries and segments. The group of companies follows the maxim "Industries need specialists" and always focuses on industry expertise with the individual platform companies. This means that the solutions remain tailored to one industry in each case - as with "GRÜN raw "in the retail sector - and give users and customers a head start when it comes to digitization compared to the use of monolithic and generalist general ERP solutions. By bundling different industry solutions under one roof, there are also many synergy effects in the area of ​​development, marketing and also when building a digital ecosystem with interfaces between all industry solutions of GRÜN Group.
The raw location in Kreuzau and all contact persons will be retained.
Download press release
Send us a message if you want to know exactly how our solutions can support you. We are looking forward to your contact
Contact inquiry