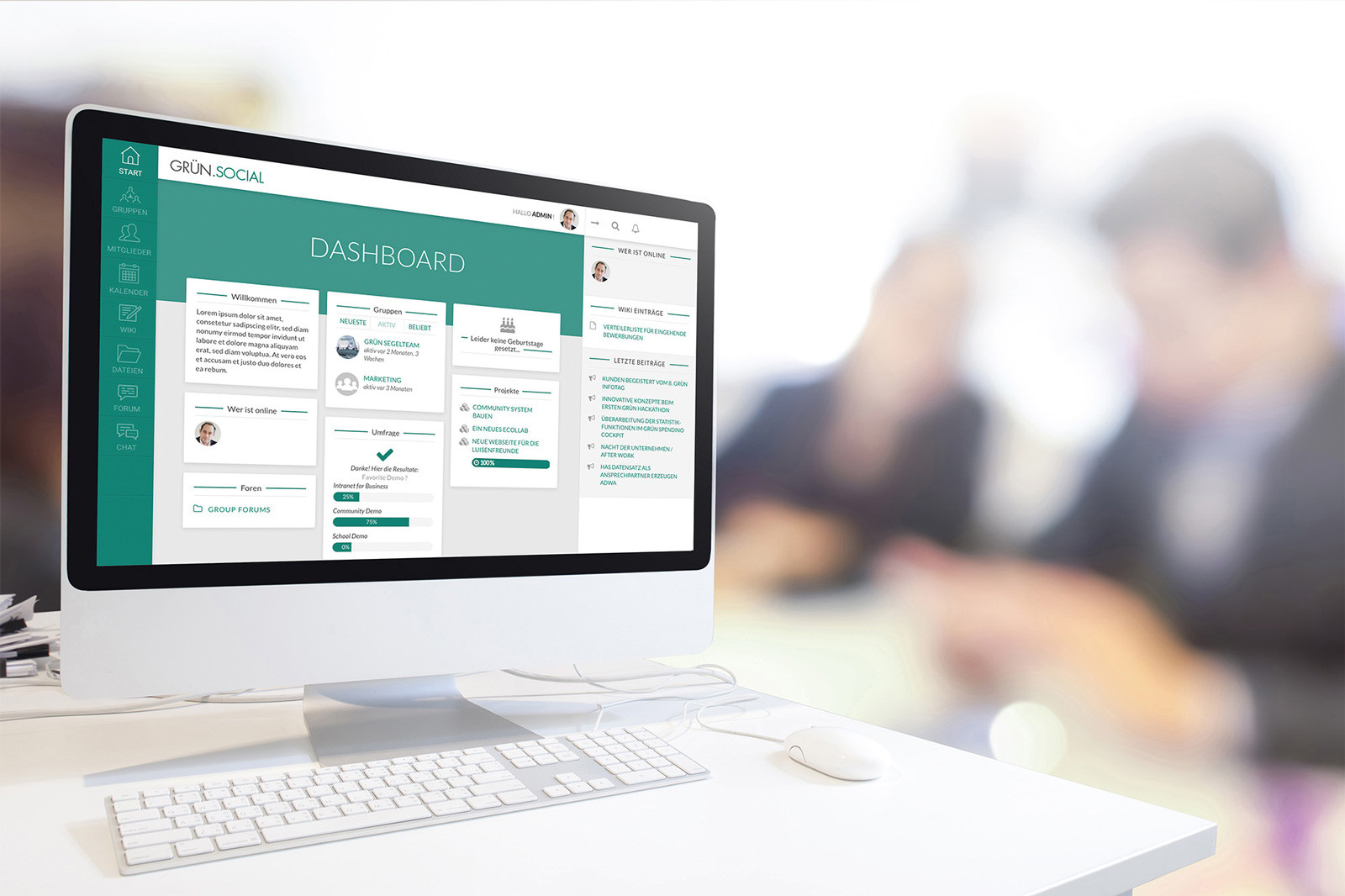 GRÜN.SOCIAL is the new online social software from GRÜN Software AG for organizations and companies.
The GRÜN Software AG is expanding its product portfolio to include web-based social software for organizations and companies. Effective online collaboration in virtual groups. Interface to GRÜN VEWA family. Use as an intranet or extranet. SaaS software from the GRÜN App cloud.
Aachen, October 24.01.2018nd, XNUMX. The GRÜN Software AG, Provider of market-leading industry software, is expanding its product portfolio to include online social software GRÜN.SOCIAL.
GRÜN.SOCIAL offers all the important functions for establishing effective online collaboration in organizations and companies. In self-organizing, virtual groups, all users can communicate in real time, exchange information in forums and wikis, make documents available for download or coordinate appointments within the group. These groups can be public, private, or secret, so GRÜN.SOCIAL can be used as an intranet or extranet. The interface of GRÜN.SOCIAL can be adjusted in addition to settings in the color scheme and logos of the customers. The new online social platform is an inexpensive entry-level solution based on the open source technology WordPress and was developed together with Digital agency giftGRÜN
"The cooperation within a company or an organization is thanks GRÜN.SOCIAL raised to a new level without a large investment, as team discussions about exchanging e-mails to large distribution lists, for example, are a thing of the past and at the same time an integrated interface is too GRÜN Software solutions is available "calls Dr. Oliver Grün, Board Member and CEO of GRÜN Software AG, an important reason for using social collaboration software. Similar to well-known social media platforms such as Facebook or Twitter, all relevant news is displayed on the personal pin board. Thanks to the global appointment calendar, no appointment will be forgotten.
Another advantage of the social collaboration software is its mobile and location-independent availability. GRÜN.SOCIAL is a web-based SaaS software and can be accessed via all known web browsers. Thanks to the latest web technologies, the resolution adapts to the end device of the user so that GRÜN.SOCIAL can also be used on smartphones or tablets.
The GRÜN.SOCIAL also includes interfaces to others GRÜN Software products for the roadmap. GRÜNWith the planned interface, .SOCIAL can for example access data from GRÜN VEWA7 and GRÜN eVEWA, the market-leading industry software for membership and donation organizations as well as for education providers. Members, donors, speakers or seminar participants from VEWA can join GRÜN.SOCIAL can be imported.
All data out GRÜN.SOCIAL are in accordance with German data protection in the Aachener GRÜN App Cloud stored and transmitted exclusively via encrypted SSL connections. The system can be hosted from 45 euros per month for up to 20 users.
Download press release
Send us a message if you want to know exactly how our solutions can support you. We are looking forward to your contact
Contact inquiry