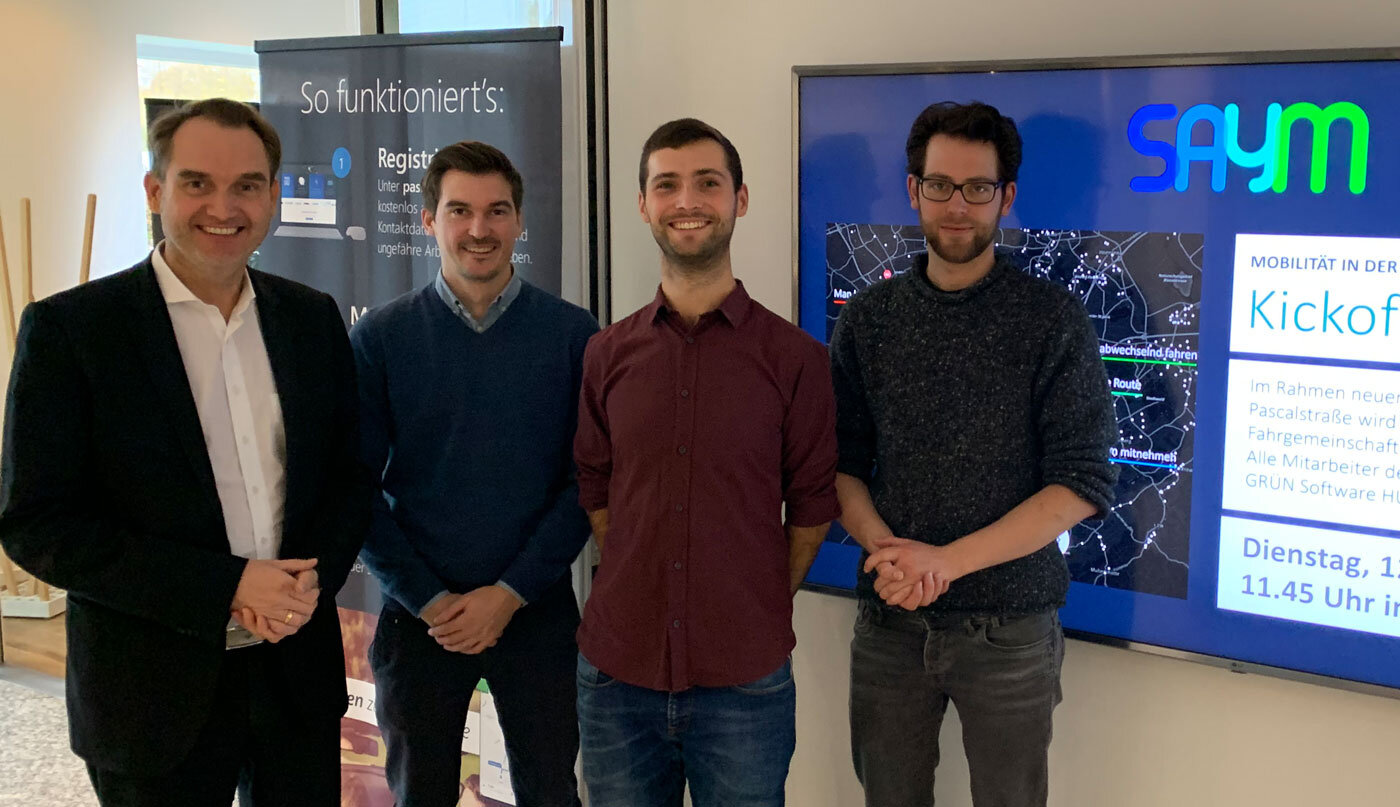 Dr. Oliver Grün, Board Member and CEO of GRÜN Software AG with Benjamin Dörries (COO), Daniel Bogdoll (CEO) and Philipp Uhl (UI / UX Design) from SAYM (from left to right).
With one click a ride to work in the Aachener Pascalstrasse Search or offer: The new mobility app from the Aachen start-up company SAYM connects employees of several companies and thus promotes swarm mobility in daily commuter traffic. By carpooling in this way, participants can easily and conveniently save time and money, improve the traffic situation and protect the environment. In a kickoff meeting, Daniel Bogdoll (CEO), Benjamin Dörries (COO) and Philipp Uhl (UI/UX Design) on Tuesday, November 12, 2019, SAYM in the Innovation Center of the GRÜN Software AG presented.
Once registered with SAYM for free, see all employees of GRÜN Software AG in the new app fully automatically creates an individual list of possible drivers and passengers. This list also shows all participating employees of Bauer + Kirch and National Instruments, who also support the pilot project "New Mobility with SAYM in Pascalstrasse". SAYM is in contact with other companies. Using the integrated planning and trip components, car pools can be flexibly initiated and coordinated every day. The SAYM mobility app, which is available free of charge for iOS and Android, is also included MOQO and Velocity networked so that a car or an e-bike can be borrowed at short notice if a trip is canceled.
Thanks to SAYM, Pascalstrasse continues to grow together. Employees from Aachen, Düren, Würselen, Heinsberg, the Eifel and Düsseldorf, who neither knew nor could imagine finding a car pool on Pascalstrasse, are already networking.
Send us a message if you want to know exactly how our solutions can support you. We are looking forward to your contact
Contact inquiry