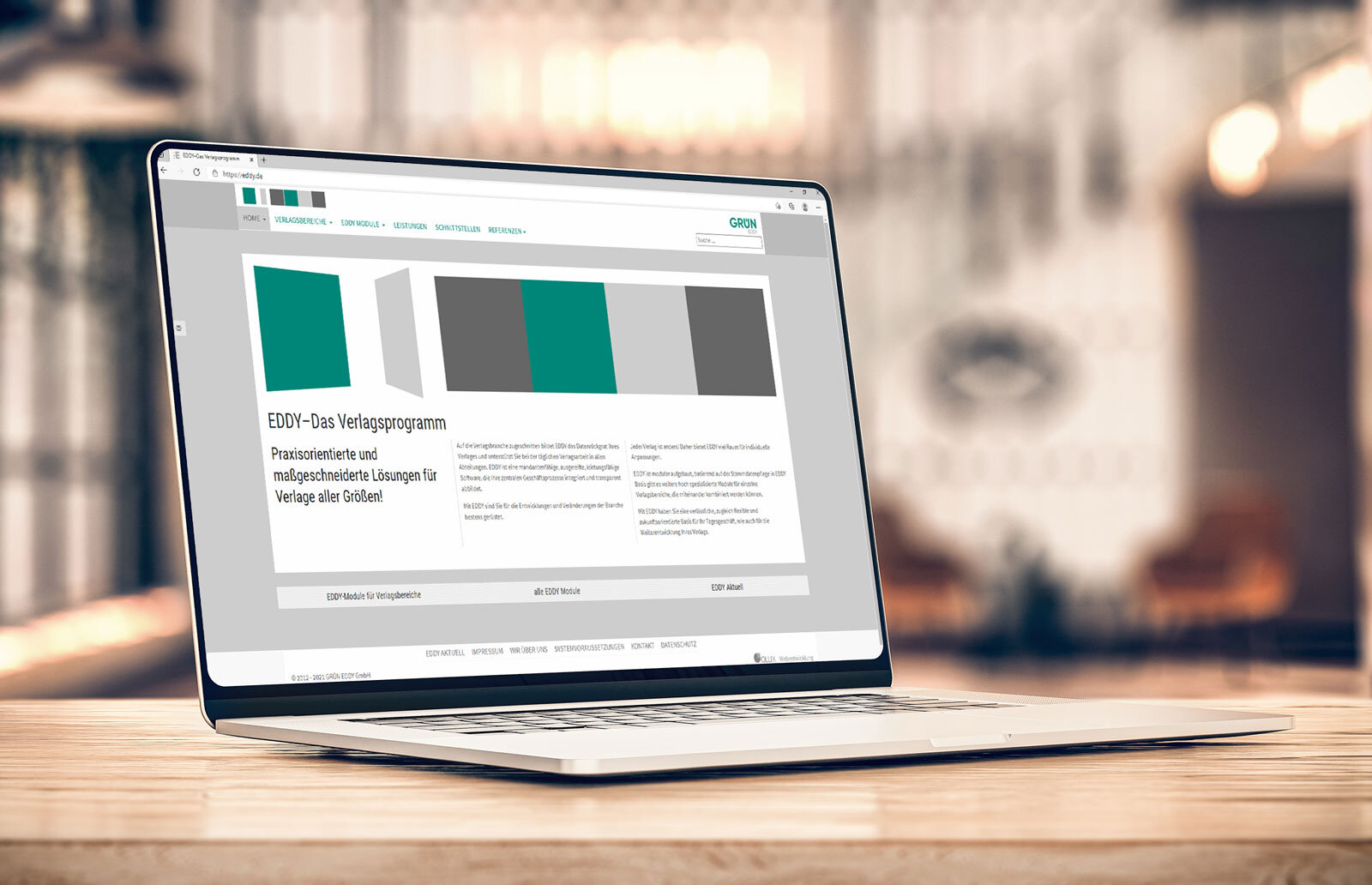 GRÜN EDDY expands the platform of the GRÜN Software Group for publishing software.
The GRÜN Software Group expands its platform for publishing software GRÜN NTX through the acquisition of the Berlin software company Triagon with the publishing software "EDDY". In the future, the company will operate under GRÜN EDDY Ltd.
Aachen / Endingen / Berlin, April 23.04.2021rd, XNUMX. The Aacheners GRÜN Software Group takes over with your subsidiary GRÜN NTX Ltd as a platform for publishing software all shares of the Berliners Triagon Software GmbH. The Berlin software company is the manufacturer of those that have been on the market successfully for over 30 years Industry software "EDDY" for publishers. The users of the software include the Egmont publishing companies, Philipp Reclam jun. Verlag, Ch. Links Verlag, AT Verlag and the Oetinger publishing group.
With the acquisition GRÜN the strategy continues, a strong group of companies with digitization solutions for publishers and media houses around the GRÜN Building up the NTX Group from Endingen: "By including EDDY publishing software in our portfolio, we are expanding our active customer base to almost 150 publishers with several thousand jobs and are expanding our position as one of the market-leading software providers for the media industry. We can use many synergies. At the same time, through our sustainable, medium-sized approach, we secure the operation and development of the EDDY solution in the long term, "says Rainer Heckmann, CEO of GRÜN NTX Ltd.
The previous partner and co-founder of Triagon Software GmbH, Johannes Loerbroks, is also happy about the partnership: "We have with GRÜN found a partner who gives our customers, employees and our software solution EDDY a strong future ". Loerbroks will be part of the company, which is now known as GRÜN EDDY GmbH operates, in the future will still be available to advise, Rainer Heckmann will take over the management. The location in Berlin and all employees and contacts will remain.
Auch Dr. Oliver Grün, CEO of GRÜN Software Group GmbH, welcomes the new company: "The EDDY publishing software is a good addition to our platform for publishing software".
The GRÜN Software Group is a constantly growing group of industry software manufacturers. GRÜN With more than 200 employees, it offers B2B software for business-critical processes in companies and institutions for various industries and segments. The group of companies follows the maxim "Industries need specialists" and always focuses on industry software with the individual platform companies. This means that the solutions remain tailored to one industry each - how GRÜN NTX in the publishing sector - and give users and customers a head start in digitization compared to the use of monolithic and generalist general ERP solutions. By bundling different industry solutions under one roof, there are also many synergy effects in the area of ​​development, marketing and also when building a digital ecosystem with interfaces between all industry solutions of GRÜN Group.
Download press release
Send us a message if you want to know exactly how our solutions can support you. We are looking forward to your contact
Contact inquiry