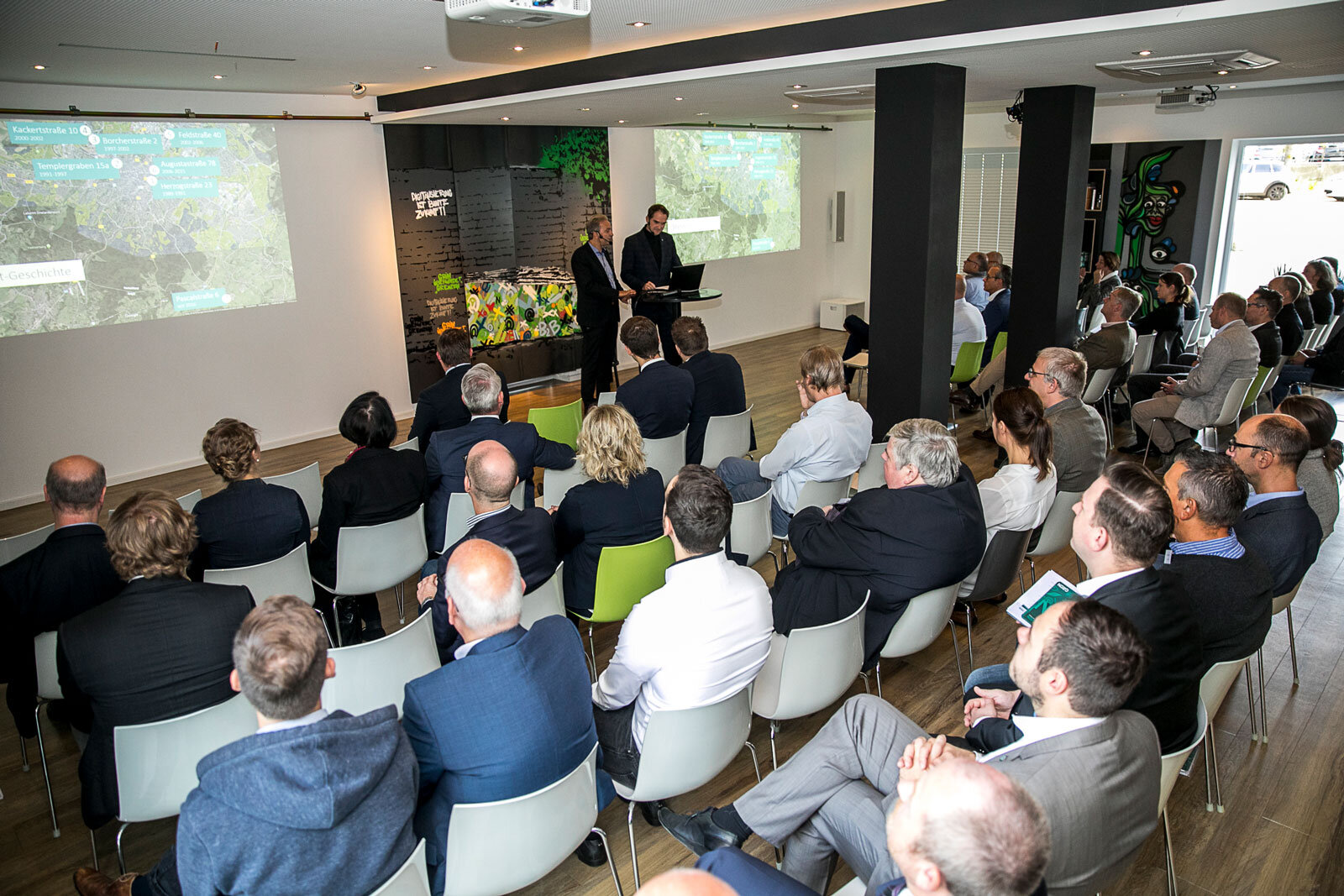 Oliver Grün (right at the desk) and Dirk Hönscheid (left at the desk) welcomed the participants of the GRÜN Innovations! 2019 in the Innovation Center of GRÜN Software Inc.
Aachen, October 23.09.2019nd, XNUMX. The GRÜN Innovations! 2019 is the new event format of GRÜN Software AG, to which all customers, partners and interested parties were invited to Aachen on September 20, 2019. Dr. Oliver Grün (Executive Board and CEO) and Dirk Hönscheid (COO) welcomed around 70 participants from all over Germany. In addition, 20 other participants were welcomed virtually as the first part of the GRÜN Innovations! 2019 could be followed in a live stream.
This year celebrates the GRÜN Software AG celebrates its 30th company anniversary. As part of the welcome address, a brief look back was therefore given to the past and the company's development since it was founded in 1989. Oliver Grün then presented the attendees with their own digitization strategy GRÜN Digitize and the resulting new and innovative products from GRÜN Software AG.
It continued with a best practice example. Stephan Keßler, IT department head at State Pedagogical Institute Rhineland-Palatinate, showed how that GRÜN VEWA-Software family that digitizes the planning, administration, organization, implementation and evaluation of events at the state institute. Olivier Chatain, Sales Director of the GRÜN Software AG, the new interface for Internet industry software GRÜN eVEWA4. Patrick Heinker (CEO giftGRÜN ) and Joachim Sina (CEO GRÜN alpha ) rounded off the morning program with the presentation of the full-service agency services of GRÜN Concepts.
After the lunch break, the first experience stations were held, in which the opinions of customers were incorporated. In open discussion groups "Topics from the GRÜN-Everyday "ideas for optimization are discussed and evaluated. Each participant visited three different experience stations. After a 10-minute presentation of the topic by employees of the GRÜN Software AG, the participants' ideas and optimization suggestions were written on Post-its and presented in a plenary session. GRÜN accepts these suggestions and will integrate them into the strategic planning of the products and workflows. At the end of the experience stations, the participants had to answer 20 questions about stations. The participants from the winning team were each happy to receive a box of Aachen Printen.
The GRÜN Innovations! 2019 was a great success. The anonymous live surveys conducted during the event confirmed this.
Send us a message if you want to know exactly how our solutions can support you. We are looking forward to your contact
Contact inquiry