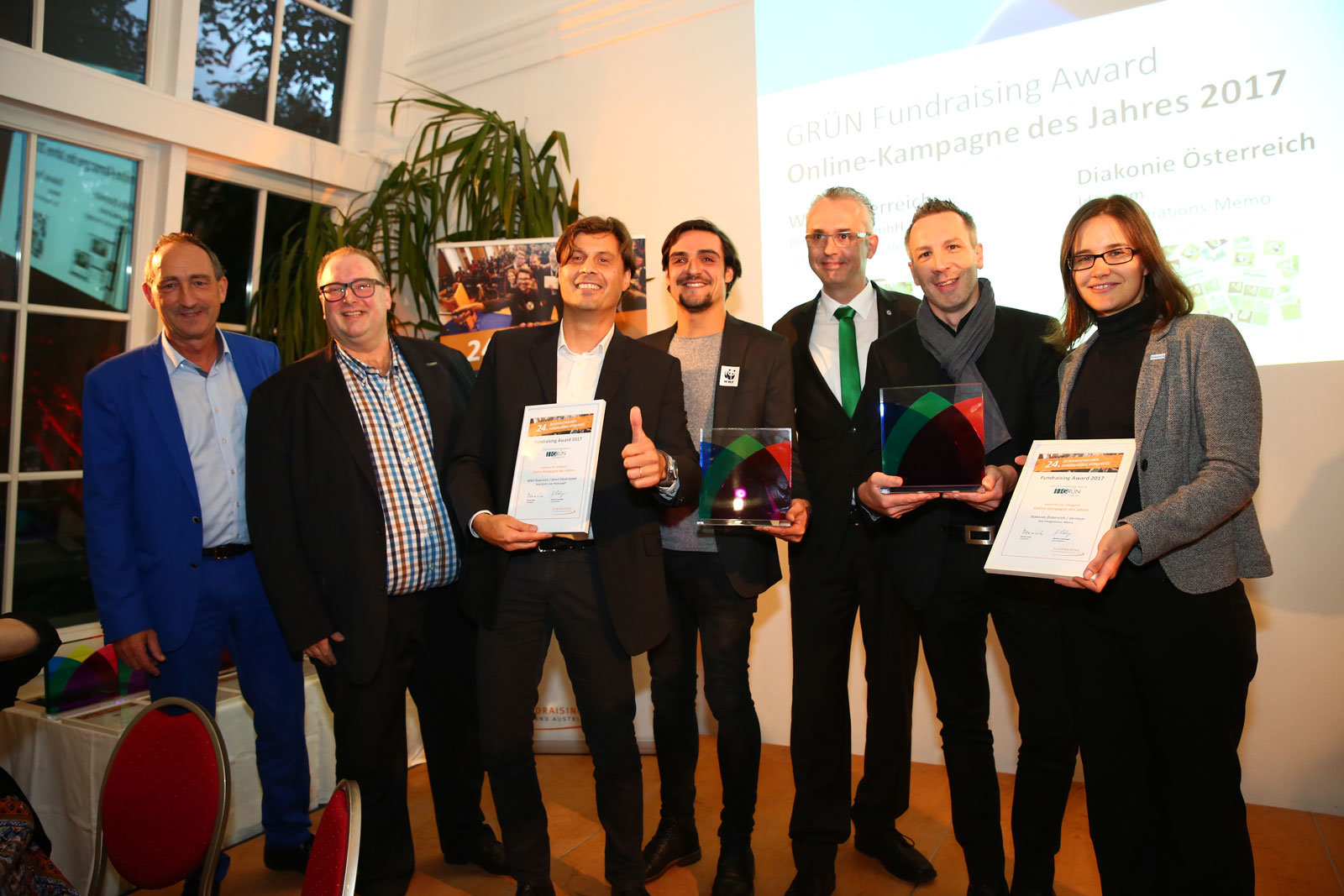 Ralph Backes (2nd from left) and Joachim Sina (3rd from right) handed over the GRÜN Fundraising Awards to the lucky winners.
The GRÜN At the 24th Austrian Fundraising Congress, Software AG has two organizations with the GRÜN Fundraising Award for the best online campaign of the year. The winners were WWF Austria and Diakonie Austria.
Aachen / Vienna, October 11.10.2017th, XNUMX. The 24th Austrian Fundraising Congress took place on October 9th and 10th 2017 in the Europahaus Vienna. A highlight of the event was the presentation of the Fundraising Awards on the evening of the first day of the event. Awards were given in a total of seven categories.
The Aacheners GRÜN Software AG and the Austrian GRÜN Fundraising Services Ltd, Providers of market-leading software solutions for donation organizations in Austria and Germany, are holding the GRÜN Fundraising Award for the Online campaign of the year awarded. Innovative online campaigns that have involved, motivated and inspired people are honored. Creativity, fundraising success and a variety of methods are the decisive criteria. This year, the jury even impressed two campaigns with the coveted award from all submitted applications: the online campaign of WWF Austria and Diakonie Austria.
The WWF Austria has been awarded for the campaign "Now a witch hunt threatens". The "witch hunt" is a sponsorship campaign to protect wolves in Austria.
The second excellent online campaign is this Integration memo of the Diakonie Austria. A popular parlor game is used here to learn the German language in a playful way and brings young refugees in particular closer to Austrian cultural assets in a playful way.
During the award ceremony of the 24th Austrian Fundraising Congress, the lucky winners received the GRÜN Fundraising Award from the hands of Joachim Sina (Head of Fundraising of GRÜN Software AG) and Ralph Backes (Director GRÜN Fundraising Services GmbH).
The GRÜN Gruppe congratulates WWF Austria and Diakonie Austria on the convincing online campaigns.
Download press release
Send us a message if you want to know exactly how our solutions can support you. We are looking forward to your contact
Contact inquiry