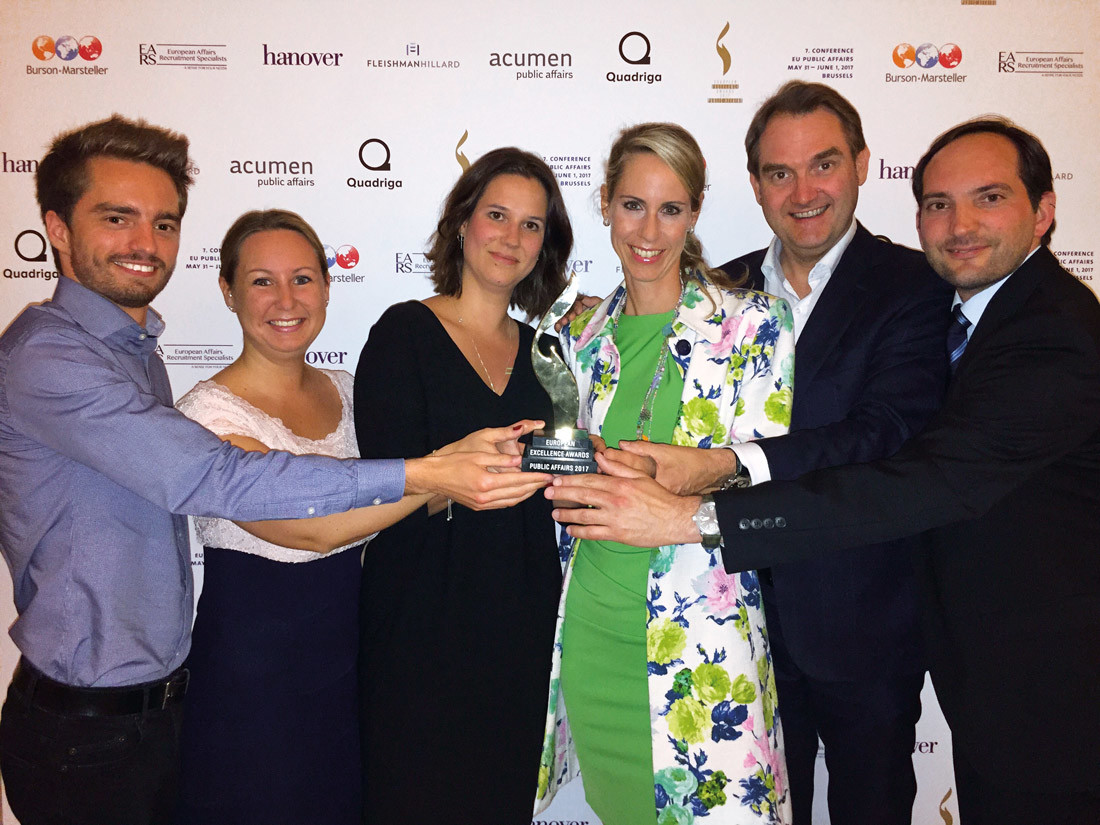 giftGRÜN and dbb Jugend NRW are happy to have won the Excellence Award 2017 with dbb NRW-Jugend Managing Director Markus Klügel (far right) and giftGRÜN Co-managing director Dr. Oliver Grün (2nd from the right).
International award for the Aachen digital agency giftGRÜN. Award for the "attacked.info" campaign against violence in the public service with the dbb youth of the German Association of Officials. Awarded on May 31, 2017 in Brussels.
Aachen, October 02.06.2017nd, XNUMX. The winners of the international European Excellence Award were honored on May 31, 2017 in the Hotel Le Plaza in Brussels. giftGRÜN, the digital agency of GRÜN Software AG won the award in the "Low Budget Campaign" category.
Was awarded giftGRÜN for the "Public Service Danger Zone" campaign, which was carried out together with the dbb youth of the German Association of Civil Servants under www.angallen.info has been launched. With the European Excellence Award giftGRÜN about the second award for this successful campaign.
With a small five-figure budget, the campaign created a lot of visibility for the problem that attacks and harassment are part of daily business in many areas of the public service. With the campaign "Danger Zone Public Service", the dbb Jugend NRW draws attention to the daily attacks against civil servants and employees in the public service and creates a voice for those affected through a digital suggestion box. Around 700 specifically known attacks in the public service have already been published in a timeline. In addition, around 1.500 votes were cast by public service employees in a survey. In the meantime, the campaign has resulted in more than a quarter of a million page views and four legislative initiatives launched at federal and state level, for example to better protect rescue service personnel or police officers against attacks.
About the European Excellence Award
The European Excellence Awards have been honoring the best PR and communication campaigns since 2007. The from giftGRÜN The award falls under the category of Public Affairs and was presented for the first time this year. Communication magazine Director and Quadriga Media Berlin, as organizers, welcomed over 200 visitors to the Hotel Le Plaza in Brussels.
A total of over 200 applications were evaluated by a high-ranking jury. The winners received the trophy in the "Low Budget Campaign" category from jury member Ann-Ninne Finne (E.ON Sverige).
Send us a message if you want to know exactly how our solutions can support you. We are looking forward to your contact
Contact inquiry