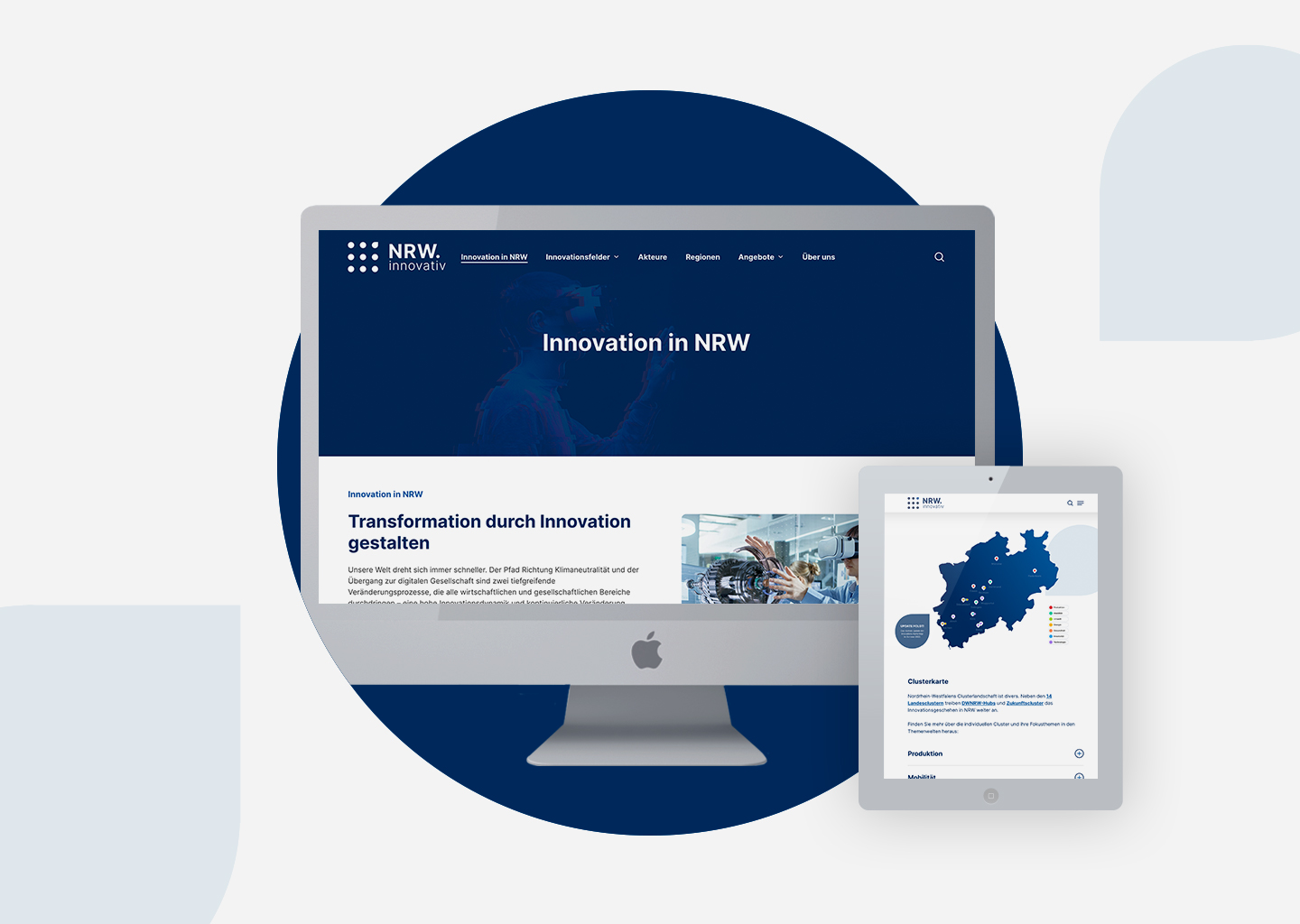 The website nrwinnovativ.de was from the digital agency giftGRÜN launched as part of the NRW.innovativ project.
Aachen digital agency giftGRÜN As part of a consortium, develops an innovation strategy for the Ministry of Economics, Industry, Climate Protection and Energy of the State of North Rhine-Westphalia (MWIKE). Live switching of the website nrwinnovativ.de. Development of an online platform for clusters and networks.
Aachen, October 03.08.2022nd, XNUMX. With the project "NRW.innovative" plans that Ministry of Economics, Industry, Climate Protection and Energy of the State of North Rhine-Westphalia (MWIKE) the establishment and operation of a competence center for networking the innovation landscape in North Rhine-Westphalia. The aim of the project is to promote innovations in North Rhine-Westphalia that represent a significant factor in the growth and competitiveness of companies and thus serve to create and secure high-quality jobs. The project is divided into two areas: In addition to strengthening and optimizing the NRW innovation ecosystem, a monitoring tool and a strategy to ensure the long-term competitiveness of the NRW innovation ecosystem are to be developed.
The NRW.innovativ project was publicly advertised by the MWIKE. A consortium of six companies won the tender giftGRÜN, the digital agency of GRÜN Software Group, belongs. giftGRÜN has the primary task of the technical implementation of an innovation platform and matchmaking within the consortium.
For the public presentation of the project, giftGRÜN first the site nrwinnovativ.de released. This website presents both the project and the fields of innovation from NRW's innovation strategy. The areas of production, mobility, environment, energy, health, creativity and technology were identified as fields of innovation. Theme worlds were created for each field of innovation on nrwinnovativ.de, which initially contain extensive information and news. In a next step, these theme worlds are to be expanded to present news as well as events, opportunities for networking or profiles of the relevant players in NRW's innovation landscape.
future will giftGRÜN develop their own online platform for clusters and networks in NRW as part of the project. The aim of the platform is to generate more radiance and visibility for the activities of the local players through an aggregated presentation of content on innovation happening in NRW. "Our vision is to act as a catalyst through the construction of the competence center and to make innovation potential in NRW shine in the long term. By strengthening the innovative power along the strategic innovation fields of NRW, we can ultimately also increase the growth and competitiveness of our economy, and thus create a future-proof innovation location in NRW," explains Patrick Heinker, Managing Director at giftGRÜN, the motivation behind the project.
Other partners in the consortium alongside giftGRÜN:
Kearney (strategy consultancy with a global network of technology and innovation experts)
IMP³ROVE (project management, strategy consulting with a focus on innovation management)
Fraunhofer ISI (research institute with expert knowledge in the areas of strategic foresight, technology transfer and regional innovation development)
Prognos (consulting company with expert knowledge in the areas of regional innovation ecosystems, location development, innovation policy trends and funding)
EURADA (public agency with expert knowledge on international innovation policy developments)