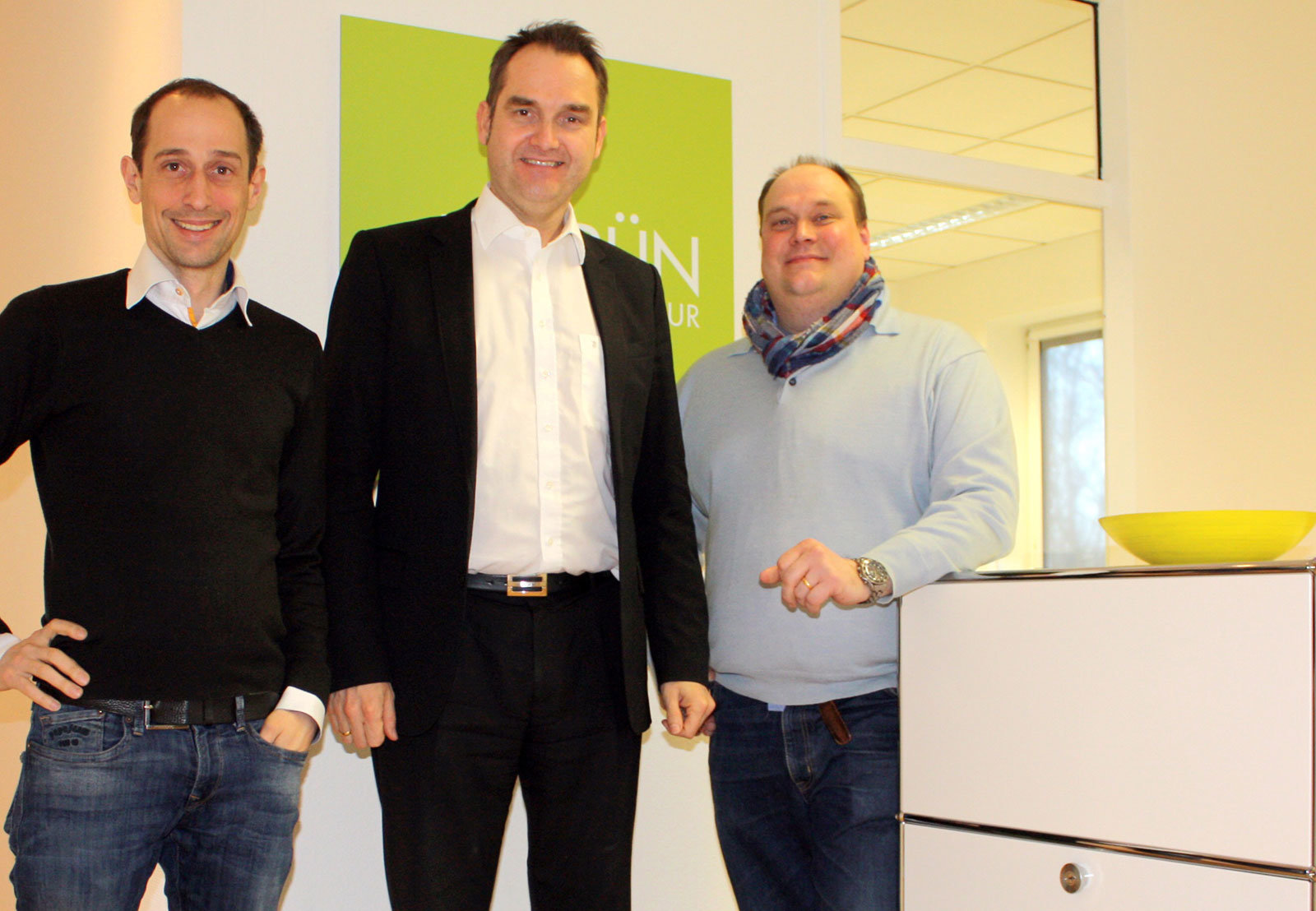 Strong together in Aachen: Patrick Heinker, Dr. Oliver Grün and Oliver Thouet (from left to right).
giftGRÜN, the digital agency of GRÜN Software AG, takes over the business of the THOUET Group and additionally offers existing customers digital communication solutions. Familiar THOUET contacts in the GRÜN Group integrated.
Aachen, October 03.03.2016nd, XNUMX. The giftGRÜN , the digital agency of GRÜN Group, takes over the business of the well-known Aachen-based THOUET Group. The services of the THOUET Group are included in the GRÜN Group has been continued and expanded since March, so all existing customers are offered a successor solution: The prepress and outsourcing services that were offered by FotoCom GmbH are provided by GRÜN Business Services continued. The offer portfolio of the THOUET advertising agency is provided by giftGRÜN taken over and digitally added: "As a specialist for cross-media, digital communication services, we want to develop sustainable, success-oriented concepts together with THOUET customers," said Patrick Heinker, Managing Director giftGRÜN and Dr. Oliver Grün, CEO of GRÜN Software Inc.
Oliver Thouet, Managing Director of the THOUET Group, which recently got into economic difficulties, adds: "With the GRÜN Group, we can offer our customers a high-quality succession solution and at the same time show digitization prospects for the future. This was particularly important to me. "The THOUET managing director is in the GRÜN Group will be available as an interim consultant for the next few months in order to enable customers to make a smooth transition to the new provider. In addition, new jobs were also created for personnel of the THOUET Group GRÜN created so that existing customers can fall back on familiar contact persons.
Download press release
Send us a message if you want to know exactly how our solutions can support you. We are looking forward to your contact
Contact inquiry