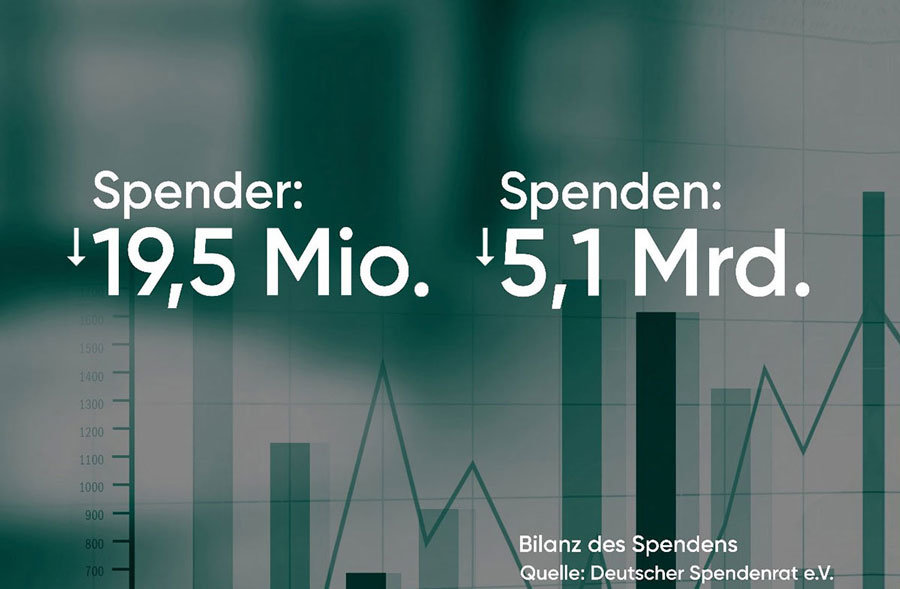 The German Donation Council has published the annual "Balance of Help" on donations in Germany.
Deutscher Spendenrat eV publishes the latest "Bilanz des Helfens". Number of donors in Germany below 20 million for the first time. GRÜN develops new digital products against this trend.
Aachen, October 05.03.2020nd, XNUMX. 5,1 billion euros were generated in Germany in the 2019 calendar year according to the recently published balance sheet of German Donation Council donated - slightly less than last year, but still at a similar level. In 2019, however, the Donation Council also recorded an all-time record: The number of donors fell to a historic low of 19,5 million.
The Aacheners GRÜN Software AG As a market-leading company, wants to respond to this and is developing new digital tools to attract and retain donors. Software solutions from GRÜN Group already represent more than 1 billion euros in funds raised by non-profit organizations in Germany. Dr. Oliver Grün, Board Member and CEO of GRÜN Software AG sees digitization as an opportunity to optimize fundraising processes in order to counter the current trend. "With our software solutions and our fundraising advice, against the trend, our customers are gaining more and more donors," says Grün and adds, "We are currently working on completely new, innovative digital products to increase the number of new donors in the population for our customers. "
The GRÜN Software AG offers market-leading solutions for donation management, digital donation tools and fundraising advice for non-profit organizations in Germany, Austria and Switzerland. The company is a committed member of German Fundraising Association.
Download press release
Send us a message if you want to know exactly how our solutions can support you. We are looking forward to your contact
Contact inquiry