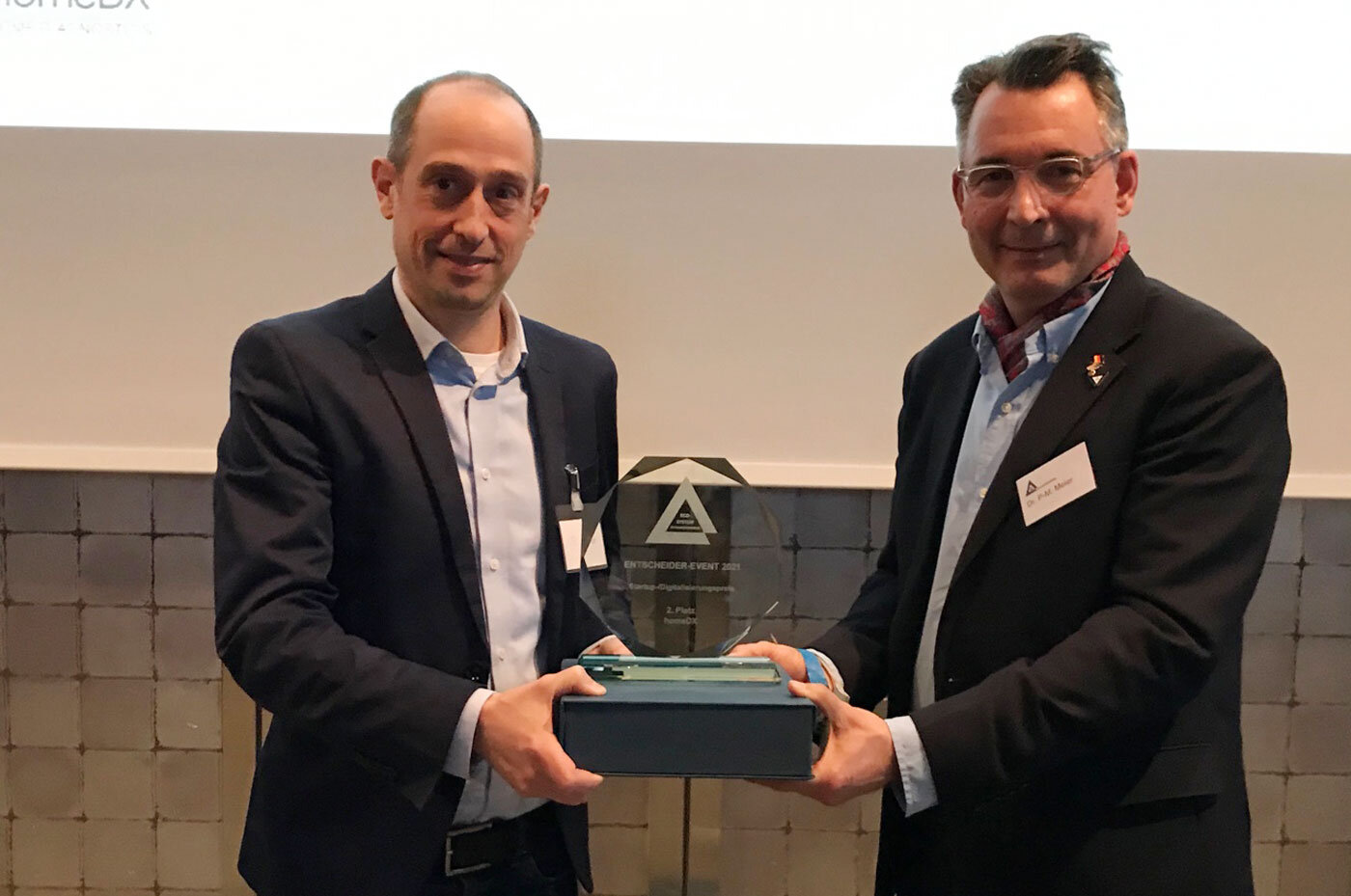 dr Pierre-Michael Meier (right), Managing Director of ENTSCHEIDERFABRIK, hands over the "StartUp and Digitization Prize" to Patrick Heinker (left), CEO giftGRÜN.
The telemedicine platform homeDX, the joint project of the Aachen digital agency giftGRÜN and the Berlin-Brandenburg diagnostics network was awarded the "Start Up and Digitization Prize" by ENTSCHEIDERFABRIK. The award ceremony took place on March 2, 2022.
Aachen, October 11.03.2022nd, XNUMX. For a daily updated certificate that certifies a negative COVID-19 test, it is usually necessary to go to a COVID-19 test center - including making an appointment and waiting in line. with homeDX effect giftGRÜN, the digital agency of GRÜN Software Group, together with the Diagnostic network Berlin-Brandenburg developed a telemedicine app through a joint venture that makes testing more convenient, more reliable and also cheaper for the taxpayer.
The telemedicine platform homeDX was launched in autumn 2021 under the patronage of the Berlin district of Berlin-Mitte and the IHK Berlin. The execution of a standard COVID-19 quick test is recorded here with the smartphone and then uploaded to a secure cloud. After the video has been checked by medical professionals, the test person receives the digital certificate via homeDX if successful.
Digitally supported self-tests are not yet recognized by legislators as citizen tests in Germany. homeDX is the only virtual test center in Germany that is recognized as part of a pilot project by the Berlin Senate.
homeDX was awarded second place in the "StartUp and Digitization Prize" by ENTSCHEIDERFABRIK for the innovative idea and rapid implementation. "We are very pleased about this award from recognized health experts. Because there is still political resistance to telemedical applications in the field of diagnostics," emphasizes Patrick Heinker, Managing Director giftGRÜN at the award ceremony. "This gives us an enormous drive and a high motivation to digitize diagnostics even further in the future. We got started with the COVID19 rapid tests, and we are currently working on numerous other areas of application," says Dr. Lange, board member of the diagnostics network.
About the DECISION FACTORY
The ENTSCHEIDERFABRIK bundles expert knowledge from industrial companies, clinics, health insurance companies, associations, health insurance companies and other health experts and was founded in 2006 by Dr. Pierre Michael Meier and Dr. Ansgar Kuscha launched. The "StartUp and Digitization Prize" is awarded by ENTSCHEIDERFABRIK to start-up companies that have been founded in the last three years and have developed an innovative solution for processes in the healthcare industry.
Send us a message if you want to know exactly how our solutions can support you. We are looking forward to your contact
Contact inquiry