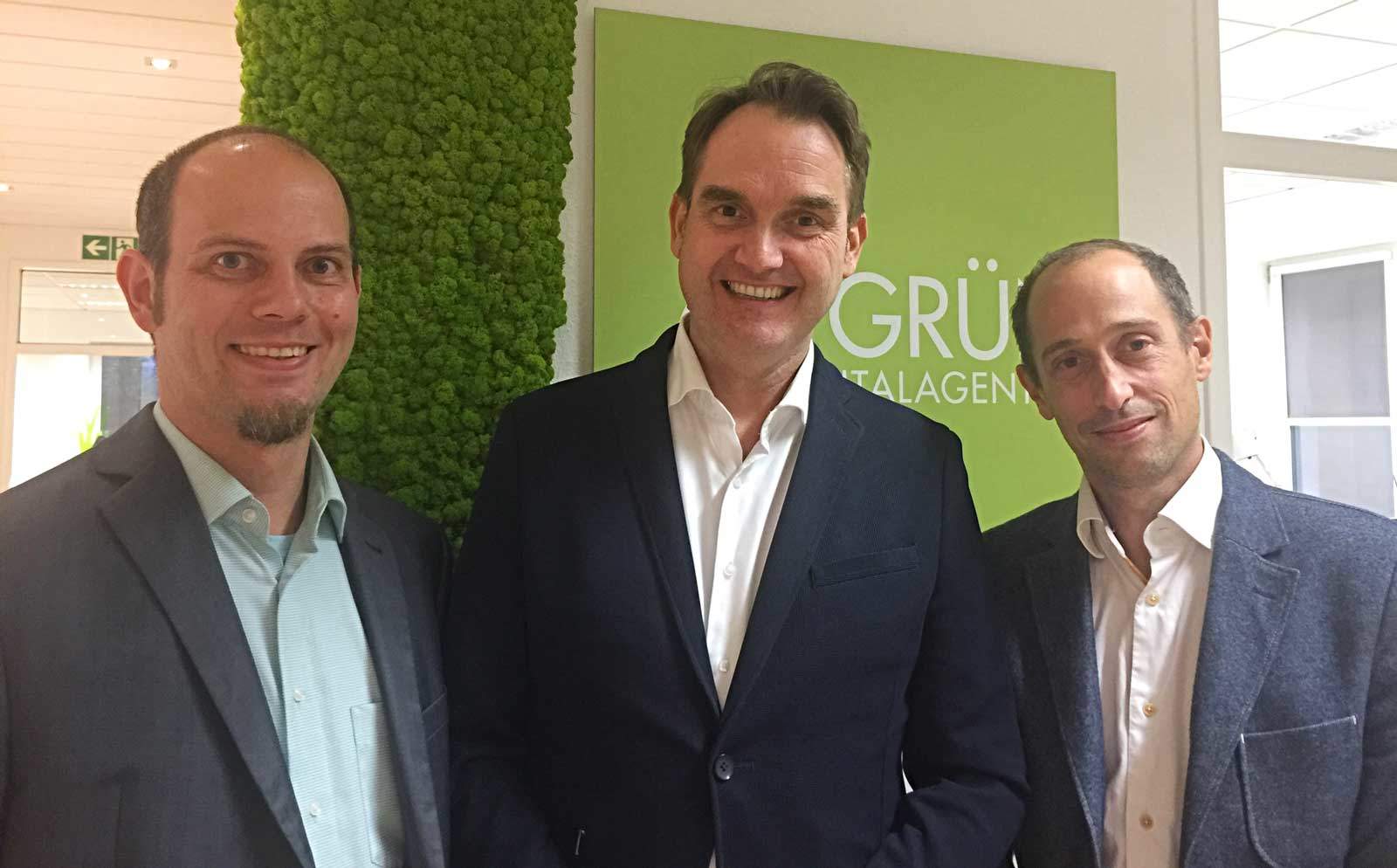 Bastian Haustein (left), the new CTO of giftGRÜN GmbH, with the two managing directors of the digital agency Patrick Heinker (right) and Dr. Oliver Grün (Center).
Digital agency giftGRÜN integrates the internet agency source lounge, which is also active in Aachen. Bastian Haustein is the new CTO giftGRÜN.
Aachen, October 13.07.2017nd, XNUMX. giftGRÜN, the digital agency of GRÜN Software AG, integrates the business and the team of the internet agency, which is also active in Aachen source lounge and thus continues to expand the digital universe as a full-service digital agency.
Headquarters of the giftGRÜN GmbH remains in GRÜN SOFTWARE HUB in the Aachener Pascalstraße. The established location of the source lounge on Hein-Janssen-Straße is now another location for the digital agency in downtown Aachen. The usual contact persons at the source lounge have also been integrated so that the team from giftGRÜN could be expanded to over 15 employees. In addition to the two managing directors Patrick Heinker and Dr. Oliver Grün Bastian Haustein, previously managing director of the source lounge, joined as CTO giftGRÜN called.
giftGRÜN As a full-service digital agency, it pursues the goal of recognizing the potential of customers in digitization and creating added value from it. Patrick Heinker sees two key features as the key to success: "As a full-service agency within the GRÜN Group, we combine a digital full-service offer with in-depth industry know-how for member and donation organizations as well as for the trade. "The merger of the two digital agencies will further expand the focus on leading technologies such as TYPO3, symfony and WordPress. "We look forward to the challenging projects in cooperation with the GRÜN Group "adds Bastian Haustein.
giftGRÜN has numerous regional and nationwide digital projects in the pipeline, which are now being implemented with increased human resources. Together with the GRÜN Software AG creates community platforms for industries.
Download press release
Send us a message if you want to know exactly how our solutions can support you. We are looking forward to your contact
Contact inquiry