3 times 3030 euros for the company's 30th anniversary as GRÜN-Birthday donation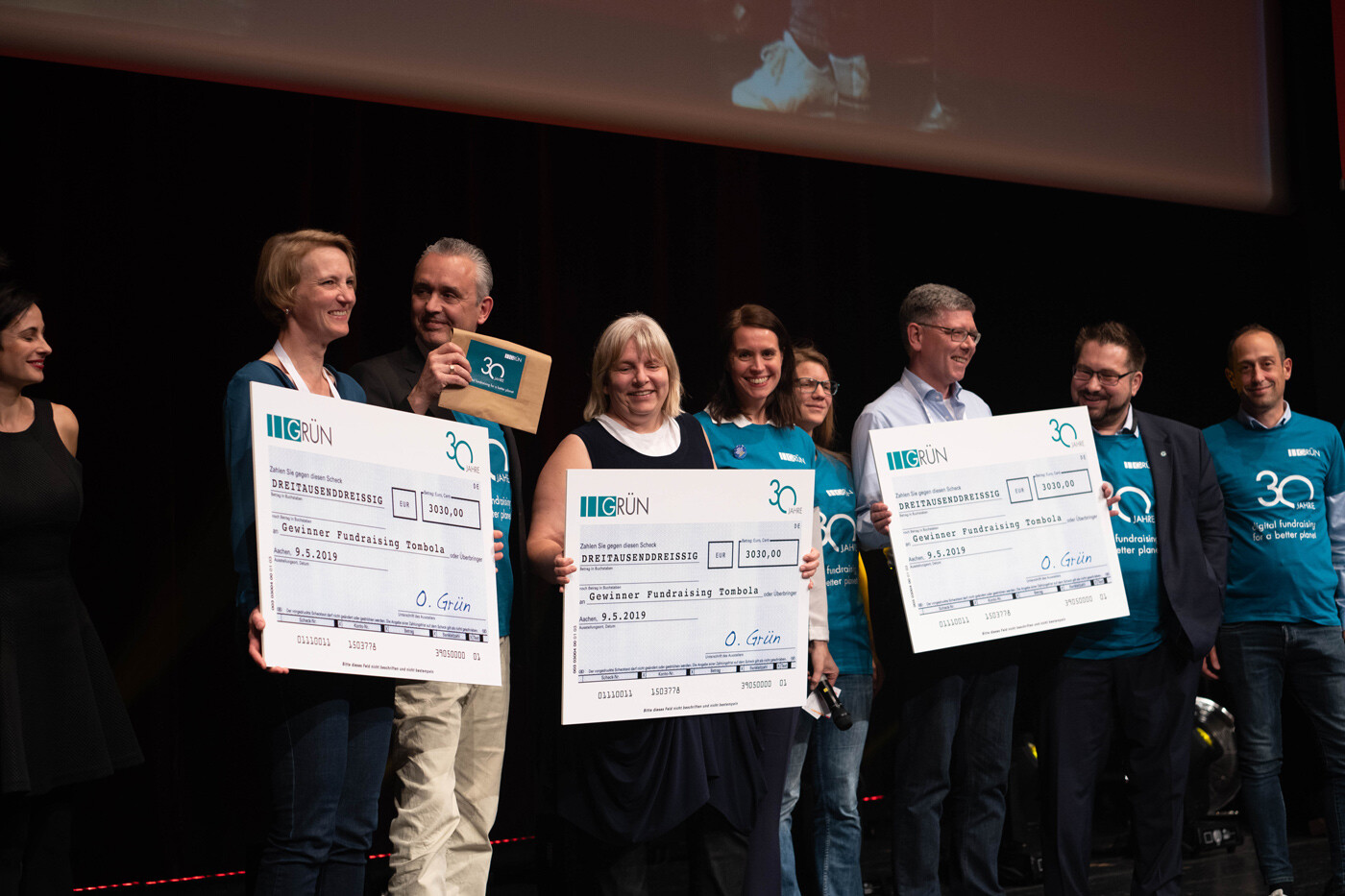 The 3 x 3.030 euros GRÜN-Birthday donations went to great projects.
GRÜN Software AG celebrates its 30th company anniversary. Donation campaign for 3 times 3030 euros at the Fundraising Congress 2019. Christoffel-Blindenmission Deutschland eV (CBM), Don Bosco Mission and Renovabis the lucky winners.
Aachen, October 10.05.2019nd, XNUMX. The Aacheners GRÜN Software AG celebrates its 2019th company anniversary in 30. On this occasion the raffled GRÜN Software AG together with the fundraising agency GRÜN alpha and the digital agency giftGRÜN At the evening gala of this year's Fundraising Congress, which took place on May 9th in the Kongresspalais Kassel, a special highlight was 3 birthday donations for a total of 9090 euros to participating donation organizations.
Am GRÜNAt the booth, the participants could throw their business cards in a box to represent their organization and thus secure the chance of 3030 euros. The three winners were determined during the evening gala. Joachim Sina, Head of Fundraising at GRÜN Software AG drew the three winning business cards in front of the 400 participating fundraisers. The lucky winners are CBM Deutschland eV, Don Bosco Mission and Renovabis. Sina presented the symbolic check.
Of course, the money goes to the respective donation projects. Don Bosco Mission Bonn, for example, will use the 3030 € for the "Beethoven Moves" project. The project takes care of Colombian street children and former child soldiers by organizing support programs through dance and music. Renovabis will use the 3030 euros for the "Holidays with God" project. The project supports families with existential worries in Siberia and enables the children to take an unencumbered break from the challenging and difficult everyday life. CBM Deutschland eV supports people with medical treatment, rehabilitation and education.
The celebrations for the company anniversary will continue on September 20, 2019. Then partners, customers and interested parties will become GRÜN Innovations! 2019 to the headquarters of GRÜN Software AG invited.
Download press release
Send us a message if you want to know exactly how our solutions can support you. We are looking forward to your contact
Contact inquiry